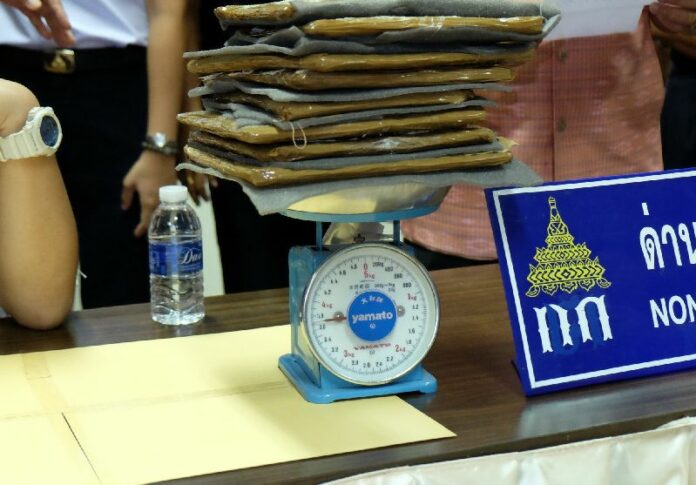 NONG KHAI — Police say a Thai woman was deceived by an online persona into carrying a bag of cocaine across the Thai-Laotian border yesterday.
The 26-year-old woman was arrested at a border checkpoint in Nong Khai province after police inspected her bag and discovered several packages of cocaine hidden beneath the seams. The purse contained a total of 3.5 kilograms of cocaine, worth at least 12 million baht.
The woman told police officers she had been instructed to bring the bag by "Michel," an online acquaintance who claimed to be a 40-year-old Canadian man, but who the woman had never met in person.
Michel reportedly asked her to pick up the abandoned bag from a parking lot near a market in Vientiane and bring it to Mo Chit Bus Terminal in Bangkok. He told her the purse was a luxury item that he planned to resell, and offered her 20,000 baht as a reward, police said.
Pol.Col. Pallop Suriyakul na Ayutthaya, commander of Nong Khai Immigration Police, said he believes Michel is a fake online persona created by a narcotic syndicate to dupe unsuspecting women into acting as drug mules.
"They may use photos of good-looking, white-skinned, men that wear suits and look wealthy to dupe victims who are looking for friends or partners into joining criminal activities," Pol.Col. Pallop explained.
He said the woman will be charged with drug possession.