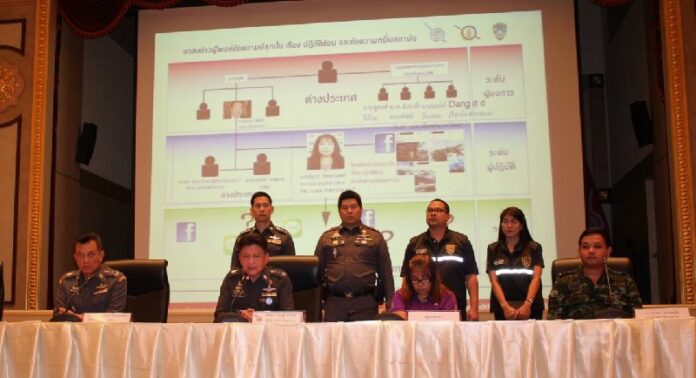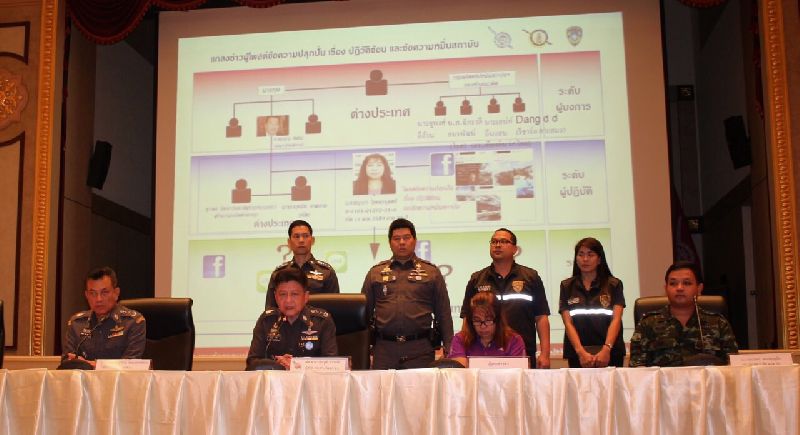 BANGKOK — A 49-year-old woman arrested for allegedly spreading a rumor about a counter-coup in Thailand is facing an additional charge of insulting the monarchy.
Police say Chayapha Chokepornboonsri, a resident of Samut Prakan province, started a rumor on social media about a group of disgruntled army officers who were poised to stage a coup against Gen. Prayuth Chan-ocha, the former army chief who led the May 2014 coup and is now Prime Minister.
Chayapha was arrested by soldiers on 23 June after authorities tracked her down with help from the Technology Crime Suppression Division, police said. Her computer, mobile phone, and tablet were also seized as evidence.
According to police, Chayapha, who is a member of a local Redshirt group in Samut Prakan province, posted a photo of military tanks on the streets on her Facebook account and wrote in the caption that a counter-coup was on its way.
Police initially charged Chayapha with violating the Computer Crime Act, which outlaws spreading false information online that "affects national security," but added an additional charge of lese majeste (insulting the monarchy) after they reportedly found that she had posted critical remarks about the monarchy on social media.
"After we expanded the investigation, we found that she posted messages that reference the monarchy in negative ways, so we asked the martial court in Bangkok to issue an arrest warrant for Section 112," said Pol.Maj.Gen Siripong Timula, commander of the Technology Crime Suppression Division.
Section 112 of the Thai Criminal Codes, a law known as lese majeste, carries a maximum penalty of 15 years in prison.
Chayapha confessed to the charges at a police press conference yesterday. She is now facing a trial in martial court, where military officers serve as judges and appeals are not permitted.
"If I could turn back the time, I wouldn't have done it," she said at the press conference. "I'd like to warn other people who are thinking about doing this, and people who receive the messages, I want them to think carefully before forwarding the messages. I don't want you to do things without thinking carefully."
According police, Chayapha belongs to an underground "anti-monarchy" network that spreads libelous information about the monarchy on the internet.
"Our investigation reveals that this suspect is connected to other people. They are separated into three levels: the masterminds, the operatives, and the lower ranks, who are sympathizers that share and forward the messages," Pol.Maj.Gen Siripong said. "Based on information from the suspect's computer, we found that Chayapha was in contact with a man named Krittichai "Jack" Thepsai, who is in Australia. Based on police information about Mr. Jack, he is in the same network with Manoon Chaichana, who is known as Anek San Fran[cisco]."
The officer added, "All of these individuals have been issued arrest warrants by the Technology Crime Division, but they are living in foreign countries."
Anek is a well-known YouTube user who has posted a series of videos that criticize the Thai Royal Family. He is believed to be residing in San Francisco in the United States. In March, police also accused Anek of leading the "terrorist network" behind an abortive plan to stage bomb attacks in five different locations around Bangkok.
Pol.Maj.Gen. Siripong said Thai authorities have been "using every channel" to try and bring members of Anek's alleged network back to Thailand for prosecution.
"The Royal Thai Police have not been idle about this," he said.
Asked whether Chayapha received any payment from the alleged network for her social media posts, Pol.Maj.Gen. Siripong said, "Ms. Chayapha has not given any information to us about this. There will be an investigation about it. However, even if she doesn't tell us anything, electronic evidence will give us some clues."