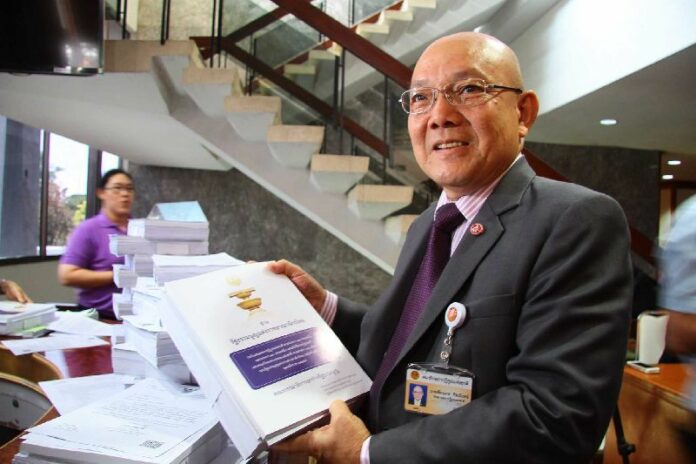 BANGKOK — The referendum on the Thai junta's new constitution will be held in January 2016, according to an election official.
"As a preliminary date, we have set it for 10 January," said Boonyakiat Rackchartcharoen, the deputy secretary of the Election Commission (EC). "We have to consider the procedure of publishing and distributing charter drafts to 19 million voters. If the distribution exceeds 80 percent, the date for the referendum will not be changed."
Thailand's 20th constitution is being drafted by a committee appointed by the military junta that seized power and dissolved the previous charter on 22 May 2014. The junta has agreed to put the charter draft to a referendum.
Boonyakiat said voters will only be able to accept or reject the constitution, which has been criticized as the least democratic charter in decades.
"If voters do not use their rights to tick the 'for' or 'against' boxes, the ballot would be voided," he said.
According to Boonyakiat, there will not be overseas or advance voting for the referendum. The voting will only take place in Thailand on a single day.
He also told reporters that the government can add other questions related to the constitution on the ballot, such as whether a Prime Minister must be elected. The charter drafters will then be required to amend the draft in accordance with the opinions expressed in the referendum.
"As for other irrelevant questions, like whether to legalize casinos, or whether the government should stay on for two more years, or whether there should be reforms before election, the laws do not require the state to act on the results of these questions in the referendum," Boonyakiat said. "It's like simply giving information to the government to use in its decision making."
The military government has pushed back the date for national elections several times since seizing power, and now says a poll will be held in September 2016 if the charter passes the referendum vote. Officials have not said what will happen if the charter is rejected.
The junta has also dismissed calls to lift its ban on political activities and campaigning, which has been in place since it staged a coup, to allow for free debate about the charter before the referendum.
In the referendum for the post-coup 2007 charter, which was also drafted by a junta-appointed council, voters were also only permitted to accept or decline the document. Critics say that many voters reluctantly approved the charter out of fear of prolonged military rule.
For comments, or corrections to this article please contact: [email protected]