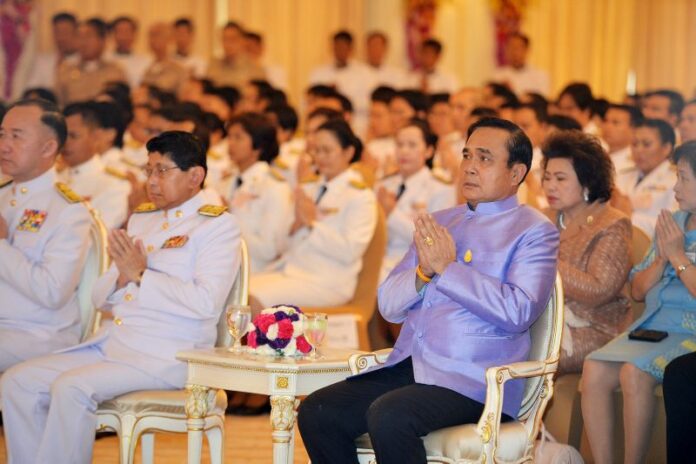 BANGKOK — Leaders of Thailand's military junta have accused young pro-democracy activists of receiving backing from established political groups in an effort to discredit the junta and cause "unrest."
Gen. Udomdet Sitabutr, Thailand's army chief and a member of the junta, said this morning that he was "uncomfortable" with the fourteen activists, most of whom are university students, who marched in Bangkok yesterday after forming a group called the Neo-Democracy Movement.
"We have received information about the political groups who are involved in the students' movement," Gen. Udomdet said. "I have the names of everyone who has supported the movement, but I don't want to disclose these names."
When asked to specify which "political groups" are allegedly backing the activists, he replied:
"Those who are dissatisfied with national administration of the government. I think that's the case. But I'd like to tell them that I still have respect for them. We might invite them for a discussion in practical way, and we will certainly not be negligent about this. But I will not tell the media things that are inappropriate for my position."
The army chief also warned that if left unchecked, the activists' campaign could lead to "conflicts with people who are unhappy with the activists, and then they will use weapons against each other and stage bomb attacks again."
"I am uncomfortable seeing students come out and engage in a movement like this," he said. "Teachers and lecturers have a duty not to teach students to express their opinions when the country has been damaged so much."
The Neo-Democracy Movement was founded by fourteen young activists from Bangkok and Khon Kaen province who are wanted by police for organizing pro-democracy demonstrations on the one-year anniversary of the 22 May 2014 coup. Police surprised many yesterday by only observing – and not arresting – any members of the group as they marched down Ratchadamnoen Avenue in Bangkok.
While Thailand's major political parties and organizations have largely stayed quiet under orders from the junta this past year, student activists in Bangkok and Khon Kaen have staged regular, small-scale demonstrations against the military government.
Junta chairman and Prime Minister Prayuth Chan-ocha also told reporters today "there is certainly someone behind" the activists.
"You can see for yourself on social media," Gen. Prayuth said at the Government House. "Go see for yourself on the websites. I have seen it on websites."
Gen. Prayuth added that he has given the students "many chances," but still failed to reach an understanding with them.
"I have invited them for talks, but they accuse me of censorship. If we do not talk, how can we understand each other? Yet, after we talk, we still don't understand each other. That means there must be someone behind this. We have to unmask these people."
Gen. Prayuth asked the activists to stop "referencing old events in 1973 and 1992," referring to two popular uprisings in Thai history that successfully brought down military juntas.
"They are totally different situations," he said. "Don't bring those days into today. History is a lesson for us … If we do something bad now, that will become the future of Thailand. Mark my words."