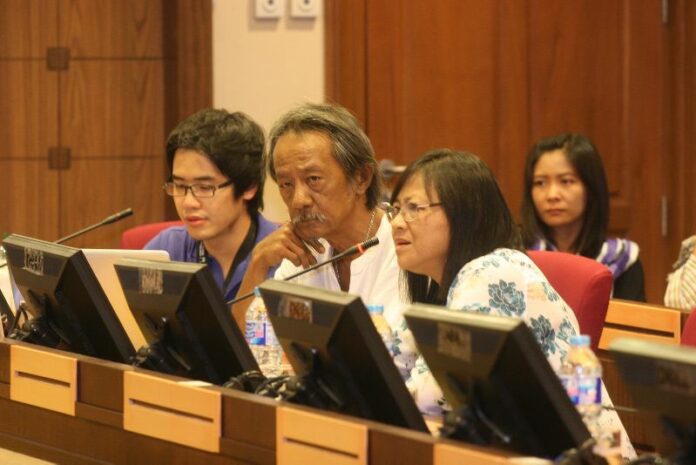 BANGKOK – The parents of two students who are currently imprisoned with twelve other anti-junta activists have insisted that their children are not backed by politicians, as the junta has alleged.
The National Human Rights Commission (NHRC) convened a meeting today to listen to testimony from the parents about the arrests and jailing of the fourteen activists, who have been held in prison for a week on charges of inciting unrest.
They were arrested last Friday for leading peaceful pro-democracy demonstration, and are now awaiting trial in prison under orders from a military court.
Wibul Boonyapatraksa, the father of Jatupat Boonyapatraksa, an activist from Khon Kaen University, said his son has been campaigning with local communities in northeastern Thailand for many years, and has no connections to any political parties.
"Let me repeat: don't try to connect this to politics," Wibul said. "My son insisted to me he is not connected to any political group or any color. Even though many colors and many political parties have tried to get in touch with them [the activists], they wouldn't have any of it."
Members of the ruling military junta have asserted that the fourteen activists are backed by high-level politicians, but have not produced any evidence or identified anyone by name.
Rewadee Sitthisurat, the mother of another activist, Ratthapol Supasopon, said several plain-clothed security officers visited her home yesterday and told her that they were soldiers on an assignment to take her to see their commander. However, when Rewadee reportedly asked to see their ID cards, the officers refused, so she declined the invitation.
"I felt unsafe and very suspicious of them," she said.
According to Rewadee, the officers then asked if she needed any help, so she said their commander could help by releasing her son and his friends.
"They are not traitors. They love their country as much as you soldiers, and they want to express their opinion," Rewadee recalled telling the officers. "They don't want politicians to interfere with them. In the past ten years, our society has been awful, yet these kids have become activists. Isn't that something to be glad about? They are the future of our nation."
Today's meeting was briefly interrupted when a man in a military uniform walked into the room unannounced and started taking photos of the participants, prompting NHRC chairman Niran Pitakwatchara to stop the discussion and ask the man to identify himself. The man said he was a security officer sent by the Treasury Department to take photographs and write a report about the meeting.
Upon hearing the explanation, Niran told the man he had no right to be in the meeting and asked him to leave.
"This action is a violation of the NHRC's working, because the Treasury Department has not sent any letter asking for permission [to observe the meeting] to us. This is an intrusion," Niran said.
The NHRC chairman also warned that the officer would face legal action if he distorts information about today's meeting to his unit.
"I don't trust your ability to present the information accurately," Niran said.
The NHRC then resumed the session by listening to testimonies from other witnesses, including some residents from northeastern Thailand who said that Jatupat and his friends at Khon Kaen University have been defending the rights of their community for years.
At the conclusion of the meeting, Niran said he would ask authorities to process the case justly.
"Although [the junta] thinks the use of martial court is legitimate, in order to be legitimate they must uphold the rule of law and human rights. All evidence must be clear," Niran told reporters.
"I don't want this society to return to the incident of 6 October 1976," Niran said, referring to the massacre of student protesters at Thammasat University at the hands of Thai security forces.