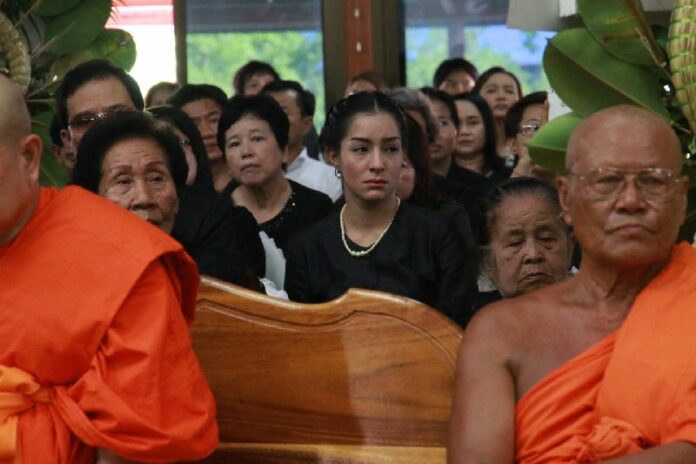 SUPHANBURI — The Thai-British actress who crashed and killed an off-duty policeman on a Bangkok highway last week said the officer's ghost has asked his family to forgive her.
Anna Hambawaris, who is also a model and better known by her stage name Anne Reese, crashed her Mercedes-Benz into a parked police car on a highway in Prawet district at around 3 am last Friday night, killing Pol.Lt. Naphadol Wongbundit, a traffic police officer from Suphanburi provincial police force who was sleeping inside the vehicle.
When police officers arrived at the scene of the accident, the 28-year-old actress refused to take a breathalyzer test or go to a police station for questioning.
She didn't surrender herself to police until twelve hours later, and was eventually charged with reckless driving leading to deaths of others and fleeing the scene of an accident.
While Anna was attending the officer's cremation ceremony in Suphanburi on 1 July, a woman in the audience had a seizure, shouted that she was being possessed by the ghost of the dead policeman, and called for Anna. The actress was quickly brought over to the woman, a 36-year-old resident from Saraburi province and relative of Pol.Lt. Naphadol.
Speaking to Khaosod on the following day, Anna said the ghost had already left the woman by the time she arrived at her side, but others who watched the seizure told her the ghost had conveyed a message for her.
"He asked for his family to forgive me," Anna told Khaosod.
"'Don't hold her [Anna] guilty, she is already very sad for what happened, forgive her,' – something like that," Anna quoted the ghost as saying.
Many Thais are heavily superstitious and believe in ghosts, mediums, and other spiritual forces.
The actress said she was disappointed to miss her chance to speak to the ghost, because she wanted to apologize to Pol.Lt. Naphadol in person, but expressed relief that the dead policeman has forgiven her.
"I feel relieved to a certain point. If it really happened, I mean, if that woman was really possessed, and if he really understood what had happened," Anna said. "I have been feeling sad about what happened since the beginning. Now that he has spoken these words, I felt that he has given his last message."
She added, "The night before I attended his cremation, I was thinking about what happened to him when I tried to sleep. It kept swirling around when I was lying there. It was so late when I managed to fall asleep. And when I did, I dreamed of the accident, when I was with his car, and with his dead body. It felt so real. [In the dream] he woke up and said something to me, but I couldn't remember what it was. My memory of the dream ended there … I wanted to beg for his forgiveness."

Anna (in grey) apologizes to the family of Pol.Lt. Naphadol at his funeral in Suphanburi province, 27 June 2015
Anna also told Khaosod she would meditate as a nun in memory of Pol.Lt. Naphadol at a temple in Bangkok from 7 – 12 July.
Shortly after the accident, a video of the actress speaking incoherently and refusing to be taken into police custody went viral on the internet, attracting criticism from commentators who argued that she was clearly intoxicated.
The video was posted on Youtube by Kittiphong Maneerit, a reporter for The Nation, and showed Anna saying, "No, no, no, no, I am not ready. Don't hurt me," to a police officer who asked her to go with him to the station for questioning.
"No one is going to hurt you, sister," the policeman told her, to which she replied, "Listen to me, people in my family misunderstand me. They [will] misunderstand what this is, what this means."
When the officer repeated that she had to go the station, and that "accidents do happen," the actress shouted, "No! no!" and walked away.
Speaking to reporters the following afternoon, Anna explained she was very upset at the time and not ready to talk to police, so she called her relatives to pick her up and take her away from the scene. She also denied the speculation that she was intoxicated.
On 30 June, The Nation reported that commander of Prawet Police Station has ordered an internal investigation on all police officers present at the crime scene to determine why they permitted Anna to leave, and did not demand she take a breathalyzer test.