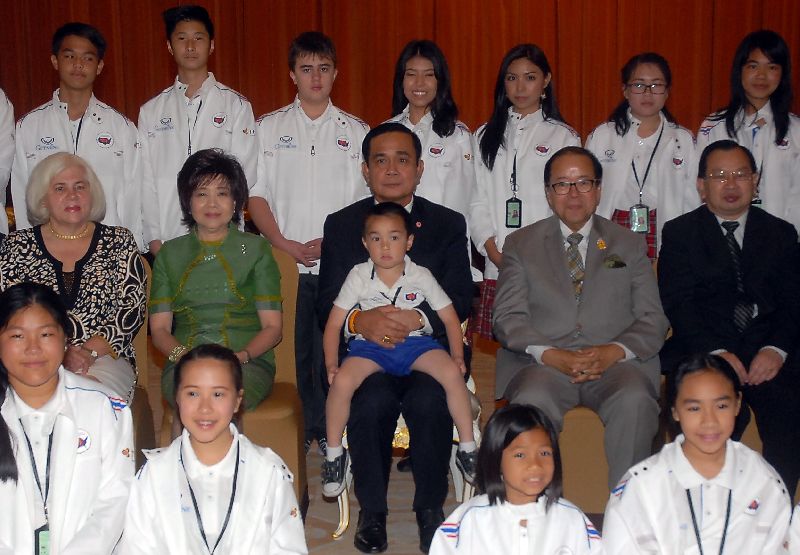 BANGKOK — Speaking to a group of young Thais who were raised abroad, junta chairman Gen. Prayuth Chan-ocha stressed the importance of revering the Thai king, who he described as a "deity" that never interferes in politics.
Gen. Prayuth was speaking to 37 children and teenagers who were raised in America and invited by the government to visit Thailand and learn about its culture.
In the speech, the general explained that the Thai monarchy is "unique" and needs the special protection of the Kingdom's lese majeste law, Section 112 of the Thai Criminal Codes, which punishes criticism of the royal family with up to 15 years in prison.
Gen. Prayuth, who came to power by staging a coup d'etat against an elected government on 22 May 2014, also told his young audience that he would return democracy to Thailand after a new constitution is approved in a referendum, which is set to take place in January of next year.
The following is an excerpt from his speech, which he delivered at the Government House this morning during an event titled "Young Thais in America Visiting the Motherland":
"I want you, young people, to think about the monarchy of Thailand, which has provided spiritual guidance for the entire nation for a long time, unlike any other nation. In the past, everything was initiated by the monarchs, be it railways, waterworks, or other things. And then, a government was set up to continue the works. But an important thing that many groups try to do is to compare our monarchy with other nations.
This cannot be done, because our [monarchy] has a long, ancient history. They [Thai monarchs] are like deities. Our King is not involved with anyone. He is above all disputes.
When someone violates him, we need to use Section 112 of the Criminal Codes, which is like a libel law, because whenever someone insults us, we can sue them, but if it's the monarchy, [the royal family] cannot sue them. This is because His Majesty is not involved with anyone, and he is under the constitution, and under every law that the government has created to protect him. Yet, people see it as human rights issue.
Let me ask you: if someone insults your father, would you give in? We wouldn't. But if it happens to our parents, they can sue. But since His Majesty the King is not involved, he cannot sue, and who would take care of him? Thai people have to. Whoever doesn't understand this is not a Thai. They are awful. This is a sensitive matter. I would like to ask the audience to explain that the monarchy of Thailand is not like the monarchy in any other country.
It's like our democracy. It's kind of hard to achieve, so it will be hard for people to forget about it, too. If it could be achieved too easily, it wouldn't work because people wouldn't know what the laws are. That cannot be done. I ask you, are we going to be American model [of democracy]? No.
Let's take a look at America … Their [democracy] was born before ours. They reformed their country before we did. They abolished slavery many years ago. I am not saying anything bad about them, because I believe that our country is our country. We have to respect each other.
Today they don't touch me much. They only want us to have an election, which I already explained would follow the road map. The [interim] constitution explains the timeline, and I will not amend it. Anything [the people] want me to fix or do for them, I do for them.
If they want a referendum, I let them have it. Elections will be held only if the [new] constitution passes the NRC [National Reform Council] and then the referendum. And the time will be extended for two months, and we will need to write organic laws for the constitution.
This is all in accordance with normal procedures. Yet they accuse me of wanting to stay in power. I ask you, can it be done? Whatever the law and the rules say, it has to be that way."
The junta chairman also asked the children to be careful when they read news on social media, and urged them to be special ambassadors who spread goodwill and understanding about Thailand among foreigners.