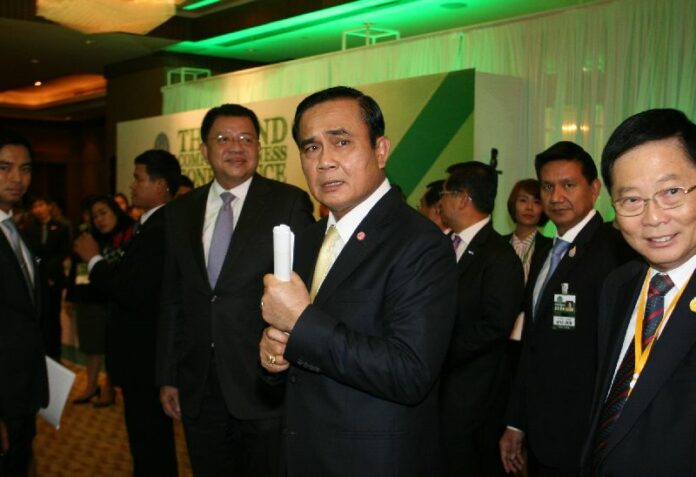 BANGKOK – Thailand's Election Commission has assured the public that the referendum for the new constitution will still be held on 10 January 2016, despite a recent extension of the charter drafting period.
On Wednesday, the Thai King gave his formal signature to the military government's amendment to the current interim charter, extending the drafting process of the new constitution by 30 days.
However, Puchong Nutrawong, secretary-general of the Election Commission, confirmed today that the referendum is still set for 10 January 2016. "We have not seen any reason to change the date for the referendum," he said.
According to Puchong, the Election Commission will launch a referendum coordinating center on 1 September and start printing drafts of the new constitution for distribution to 23 million households across the country. The commission is also organizing a bidding war for printing houses interested in printing the ballots.
"As for the budget for the voting, we cannot estimate it yet, because it depends on number of questions and the contents of the constitution draft that will be printed," Puchong said. "We have to wait for clarity first. But at this moment, we have calculated that there will be 98,000 polling stations and seven to eight staff per station. We expect that the budget for that part alone will cost more than 2 billion baht."
The first draft of the new constitution – Thailand's 20th since democracy was established in 1932 – was written by a committee appointed by the military junta that seized power and dissolved the previous charter on 22 May 2014. The draft is now pending approval from the National Reform Council, another body appointed by the junta.
The junta has promised to organize a new election by September 2016 – given that the charter passes the referendum. Officials have not said what will happen if voters reject the charter draft. In the referendum for the post-coup 2007 constitution, which was also drafted by a junta-appointed council, voters were also only permitted to accept or decline the document. Critics say that many voters reluctantly approved the charter out of fear of prolonged military rule.
The current junta has also dismissed calls to lift its ban on political activities and campaigning to allow for free debate about the charter before the vote.
Speaking to reporters, Puchong said he is concerned that the schedule for printing and distributing the charter drafts to voters will be tight. "We have to finish distributing the documents by November. When you consider that the NRC has to approve the charter draft by 6 September at the latest, the time will be rather tight."
He also told reporters that the Election Commission is seeking help from the National Anti-Corruption Commission to ensure that the ballot and charter draft printing process will be transparent and free of any corruption.
For comments, or corrections to this article please contact: [email protected]