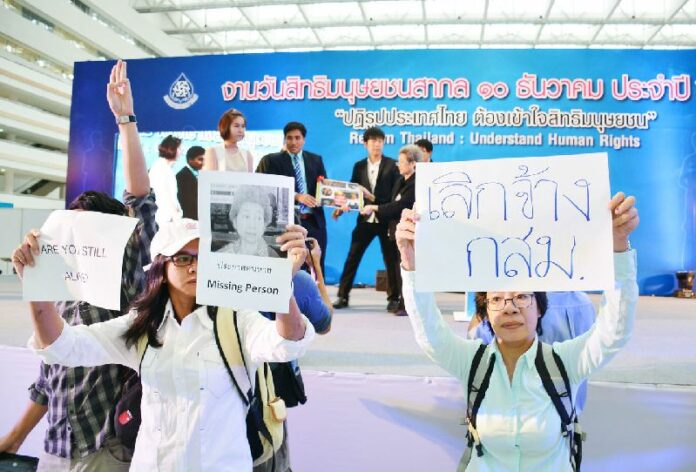 BANGKOK — An ultra-royalist who has campaigned in support of Thailand's severe royal defamation law has been named a candidate for the National Human Rights Commission (NHRC).
According to a statement published on NHRC's website today, Baworn Yasinthorn has been nominated along with six other candidates by a selection committee consisting of lawmakers from the junta-appointed interim parliament – the National Legislative Assembly – and judges from different Thai courts.
The nomination is pending approval from the National Legislative Assembly within the next 30 days. If finalized, Baworn and six other nominees will replace the existing NHRC members, who have served on the commission since 2009 and whose terms expire this year.
Baworn is known for leading a hardline pro-monarchy group called Citizens Volunteer For Defense Of Three Institutes. The group's name refers to the 'Nation, Religion, and Monarchy,' which are often referred to as Thailand's "three important institutions" by the state.
The group has repeatedly called for tougher enforcement of Section 112 of Thai Criminal Codes, a law that punishes criticism of the Thai monarchy with up to 15 years in prison. Critics say the lese majeste law, which is the harshest of its kind in the world, is used to suppress freedom of expression.
Baworn has filed numerous lese majeste complaints, including one against the former chief of Thailand's Division of Special Investigation (DSI). In August 2013, Baworn led a protest in front of the DSI's headquarters to condemn DSI chief Tharit Pengdit for accidentally referring to then-Prime Minister Yingluck Shinawatra the "head of state," a title reserved for the Thai king.
In April 2014, Baworn pressed lese majeste charges against a prominent Redshirt activist, Wuttipong Kochthammakul, aka Ko Tee, for allegedly defaming the monarchy in an interview with Vice news. He also voiced suspicion that Vice may be connected to the Redshirt movement.
Baworn was also a frequent speaker at the rallies organized by royalist protesters that campaigned against Yingluck from late November 2013 until May 2014, when the military intervened and staged a coup d'etat.
Apart from Baworn, the six other candidates for the National Human Rights Commission are:
Chatsuda Chandeeying, secretary of Samut Prakarn Juvenile Court

Prakayrat Tonteerawong, a women's rights advocate

Wat Tingsamid, a Supreme Court judge

Supachai Thanomsap, a physician and lecturer from Ramathibodi Hospital

Surachet Satidniramai, deputy Permanent Secretary of Ministry of Public Health

Angkhana Neelaphaijit, activist who has campaigned against state-sanctioned forced disappearance.
In recent years, the NHRC has come under fire from critics who believe the commission has failed to preserve its impartiality or take a firm stance against human rights abuses in Thailand.
The NHRC's responses to the junta's suppression of civil liberties since the coup have paled in comparison to the strong language deployed by international human rights groups.
"If the rights commission were an organization that had some role or meaning in defending the rights as its name suggests, the inclusion of Baworn in the commission would have warranted some excitement," wrote Somsak Jeamteerasakul, a historian and prominent critic of the Thai monarchy who is currently living in exile, in a comment posted on Facebook today.
"But this commission is nonsense. They have lacked any meaning for years. It's become even more rotten after the coup. Of course I agree with criticism about Baworn, but I just want to say I merely shrug to this news (the only thing I feel sad about is the taxpayers' money that will be wasted by this damn lot)."
For comments, or corrections to this article please contact: [email protected]