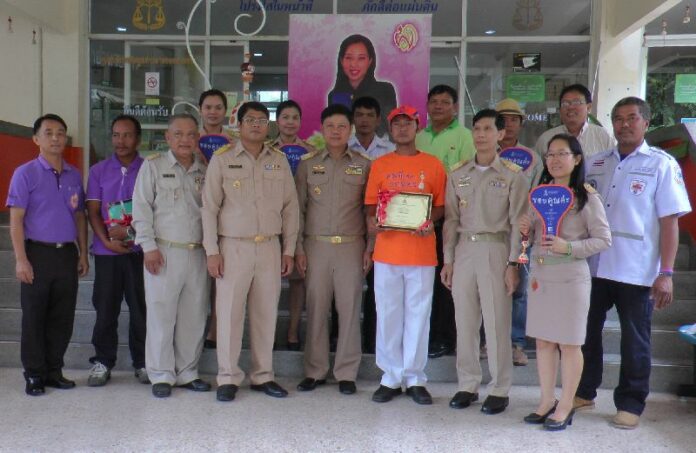 BURIRAM — Officials in northeastern Thailand have recognized an emergency rescue worker who helped police arrest a drunk driver behind a hit-and-run car crash early this month.
The rescue worker, 35-year-old Pairat Kaewwanna, was finishing his shift on the night of 6 July when he saw a car ram into a motorcyclist in Buriram province's Baan Yang subdistrict. The driver then attempted to flee the scene, dragging the motorcycle under her vehicle for six kilometers.
Pairat alerted the police, provided first aid to the victim – a ninth-grade student from a local high school – and then chased down the driver in his car until she was apprehended by police officers.
The driver, identified as a 43-year-old teacher at a public school in Buriram, has been charged with driving under the influence of alcohol and causing injuries to others.
Police have not released the teacher's name, and it is unclear whether she and the young victim are enrolled at the same school.
Buriram officials recognized Pairat today in a ceremony organized by a foundation chaired by Princess Bajrakitiyabha, a daughter of Thailand's Crown Prince.
Wiput Boonprasart, a state attorney and representative of the foundation, said the charity was inspired by Pairat's good deeds.
"After we heard about Mr. Pairat's good deeds from the media, we deemed it fit to hand him a certificate and a t-shirt, as an encouragement for him to continue to do good, and to uphold him as the exemplar model in society," Wiput said.
Speaking to reporters after the ceremony, Pairat said he did not expect anything in return when he decided to chase down the drunk driver.
"It's my job to help people in distress," he said. "I'd also like to tell all drivers to exercise caution when driving. The important thing is that you should not drive if you are drunk, because it will lead to accidents."
Education officials in Buriram have also convened a committee to investigate and take disciplinary action against the drunk-driving teacher, ASTV Manager reported.