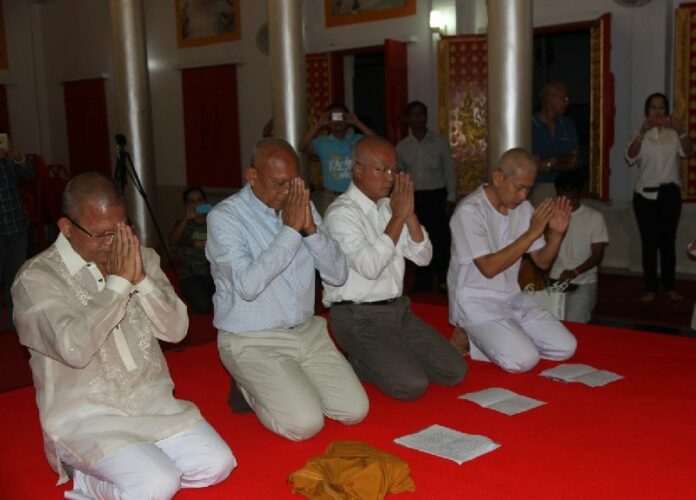 BANGKOK — Thailand's army chief said former protest leader Suthep Thaugsuban is free to pursue personal projects following his recent departure from monkhood, as long as he stays in line with the junta's ban on political activities.
"You have to understand that security forces need to maintain peace and order," said army chief Gen. Udomdet Sitabutr, who is also secretary-general to the ruling military junta that seized power in a coup welcomed by Suthep and his conservative political faction last year.
"As for the case of Mr. Suthep, we have to see first. If he only holds a meeting and discussion that is not related to politics, and does not cause disorder, it shouldn't be any problem," the army chief said, referring to a press conference that Suthep has scheduled for tomorrow in Bangkok.
Suthep, who left the monkhood yesterday after spending a year with a monastery in Surat Thani, is best known for his role as the firebrand leader of street protests against former Prime Minister Yingluck Shinawatra from November 2013 to May 2014, when the military intervened and seized power from the government.
The former activist, who has also served as deputy Prime Minister and deputy chairman of Democrat Party, told reporters yesterday that his done with politics, and will devote himself to working with a charity founded by other former leaders of the conservative anti-Shinawatra protest movement. A press conference for the charity, called the Foundation of the Great Mass of the People for Reform of Thailand, is scheduled to take place on 30 July.

Suthep Thaugsuban during an anti-government rally in Bangkok, January 2014.
Under the ban on political activities imposed by the junta, all organizers of public forums must seek permission from the regime before holding events. Soldiers and police have interfered with nearly 100 public discussions and forums since the May 2014 coup, on the grounds that they may affect "peace and order" in the country.
Asked whether Suthep has submitted a request for the press conference, Gen. Udomdet said he hasn't been made aware of any application.
"I haven't seen any [request], but when I see it, I will check its detail about what kind of event it is," Gen. Udomdet explained. "If it is a constructive and good charity, there shouldn't be any problem. But if the format is inappropriate, we won't allow them to proceed."
When a reporter asked whether security officers will monitor Suthep's movement because of his role as a protest leader in the past, Gen. Udomdet replied, "We will apply the same measures to all sides, because in general we have to maintain the peace and happiness of the country. We won't target anyone specifically. But we will monitor all sides equally. Let me stress that we will put a halt to anything that may lead to unrest."
Gen. Udomdet reiterated today that academics can always submit requests to the junta to hold forums, as long the discussions are not political in nature.
"It has to be in accordance with the boundary set by the NCPO, and not related to politics or lead to unrest," Gen. Udomdet said, using the formal name of the junta, the National Council for Peace and Order. "If these conditions are not met, we won't allow them to proceed."
Suthep's first post-monkhood campaign
Several hours after his disrobing ceremony yesterday, Suthep submitted a petition to the commander of the Eight Region Police, requesting the reversal of a plan to move the force's headquarters from his home province of Surat Thani to Phuket.
Suthep said he opposed the decision because it would affect the families of the police officers and force them to change homes, schools, and work places.
Pol.Lt.Gen. Decha Butrnampetch, commander of the Eight Region Police, personally accepted the petition and told Suthep he would consider the proposal with his superior officers.