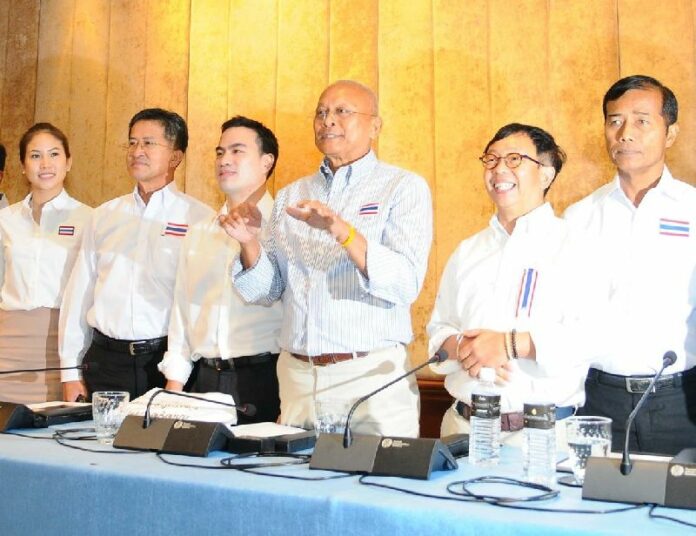 BANGKOK – Officials from Thailand's military government have starting responding to calls from former protest leader Suthep Thaugsuban to complete national reforms – "no matter how long it takes" – before returning democracy to Thailand.
Suthep, who led the street protests that culminated in the May 2014 coup, made the comments in a press conference yesterday that marked his official return to secular life after spending a year as a monk in southern Thailand. The press conference was held by Suthep and other former protest leaders who have founded an advocacy organization called the 'Great Mass of the People for Reforms.'
According to the military government's "road map to democracy," an election is scheduled for September 2016 if the junta's new constitution is approved in a national referendum. Under the current draft of the charter, an elected government would be required to carry out reform plans laid down by the National Reform Council, which was appointed by the junta last year to spearhead the post-coup reform effort.
Speaking to reporters today, government spokesperson Maj.Gen. Sansern Kaewkamnerd said that junta chairman and Prime Minister Prayuth Chan-ocha has already been informed of Suthep's remarks, "and he has ordered me not to express any political comments.'
"The Prime Minister only wants me to answer specific questions about works of the government," Maj.Gen. Sansern said. "Let me assure you that the government is fully moving along with the road map."
Asked whether he believes Suthep is pressuring the government with his demands, Maj.Gen. Sansern said, "If we listened to and followed Mr. Suthep's demand, then the government would have to comply with everything that this side or that side demands. It's impossible. Our duty is to solve problems for our country."
NRC sec-gen Alongkorn Pollabutr said Suthep should define the scope of the the reforms he is demanding.
"His proposal was made with a good intention to improve the country," Alongkorn said today. "But he has to be realistic about reforms in each aspect. He has to define very clearly what he means by saying that he wants the reforms to be completed before an election, because some reforms may be done quickly, and some may be take many years, such as reforms about corruption."
He added, "But generally, reforms of all aspects should not take more than four years, because it's a mission for this government and the next government. If the process takes a long time, the country will lose many opportunities."
Another NRC member, Paiboon Nititawan, said he believes the military government should stay in power for two more years to continue the reform process. He suggested a referendum be organized to gage support for the two-year extension.
"As for Suthep's call for a reform before election without clear time frame, is it Mr. Suthep's rights to express his opinion," Paiboon said. "But personally I think the appropriate time for national reforms is two years, which is the amount of time that everyone accepts and is sufficient for passing laws, enforcing the laws, and reforming the national administration."
Paiboon also told reporters that "as far as I have been listening to opinions, the majority of the people support reforms before an election."