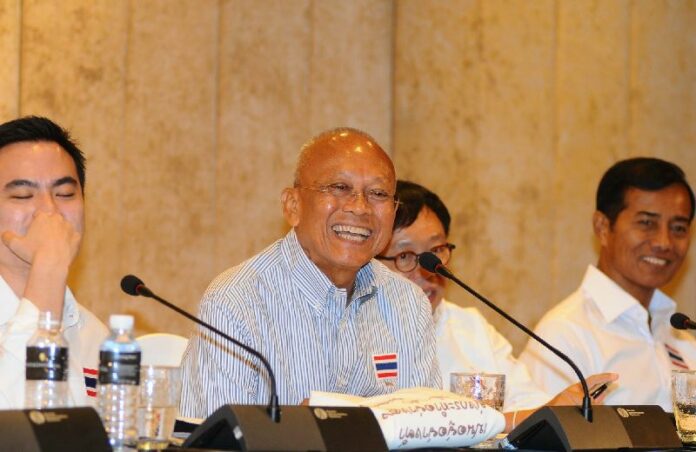 BANGKOK – The former leader of the anti-government protests that preceded the May 2014 coup reiterated his movement's rallying cry yesterday, insisting that national reforms be completed before a new election is held, "no matter how long it takes."
"I still insist on the same principle of mine: we want a reforms before an election," Suthep Thaugsuban said yesterday in a press conference that was observed by 13 soldiers and around 20 police officers in Bangkok.
"We want to carry on the wishes and legacy of the Great Mass of the People," he said, referring to the participants in his protest movement. "We want to see this government successfully reform the country before any election, no matter how long it takes."
"Reforms Before Elections" was the chief slogan of the conservative movement led by Suthep from November 2013 to May 2014. The demonstrators demanded that then-Prime Minister Yingluck Shinawatra's elected government be replaced with an appointed "People's Council" tasked with reforming the country before a new election.
The protests culminated in the coup on 22 May 2014 that brought to power the current military junta, which has largely taken up the protesters' demands by suspending democracy to spearhead a national reform effort. The junta, formally known as the National Council for Peace and Order (NCPO), has repeatedly postponed the date of elections, which are now scheduled for September 2016.
After spending a year as a monk, Suthep returned to the spotlight this week and announced his plans to run a charity founded by other former leaders of the protest movement. According to Suthep, who was previously deputy chairman of the Democrat Party and deputy Prime Minster under Abhisit Vejjajiva, the organization will steer clear of parliamentary politics.
"[The foundation] won't be related to Democrat Party at all, and I insist that I won't be a politician again," Suthep said yesterday. "I won't return to the Democrat Party. From now on, the ideas of the Foundation may not be the same as the Democrat Party. Therefore, do not have doubts. But foundation members also have the rights to favor certain political parties."
Suthep said he has legally registered his charity group, called the Foundation of the Great Mass of the People for Reform of Thailand, with the Ministry of Interior Affairs, and told reporters that he will comply with the junta's bans on public gathering and protests.
"The Foundation will be the center for collecting proposals and suggesting constructive ways for reforming the country," Suthep said. "We will open opportunities for everyone to exercise their rights to express opinions. We will use electronic media, Facebook, websites, and emails. These days we cannot organize discussion forums. We don't want any privileges, because that would lead to chaos for the NCPO. We are willing to follow the NCPO's orders, which are laws. If anyone accuses Thailand of not being a democracy, they are wrong. We live in this country, we have to follow the laws of this country."
He added, "We don't anyone to accuse the NCPO of having double standards. And I'd like to insist that we have no political interest."
Suthep also described some of his plans for the foundation, such as sending representatives to "explain" Thailand to foreigners.
"The Foundation of the Great Mass of the People for Reform of Thailand will do everything to protect the interests of the people and the nation," Suthep told reporters. "For example, if foreigners or some organizations don't understand Thai people or conditions in Thailand, we will send our people to explain the situation to them. If some countries misunderstand us, we will send our representatives to explain to the governments, parliaments, and media of those countries. We don't want to be anyone's enemy, but we love our country."
According to Suthep, one of the foundation's first projects will be establishing a "model community in which people live with love, unity, and have happiness under the Self-Sufficiency Economy" on island in the Gulf of Thailand. The community will be settled by 200 households, Suthep said.
Other projects include:
coordinating compensation money for the relatives of protesters who died in the 2013 – 2014 anti-Yingluck protests.

promoting Thai culture.

organizing a mass ordination across 58 provinces in Thailand in honor of His Majesty the King.

building a "moral" vocational college on Koh Samui island in southern Thailand.

building schools for "Christians and Muslims" that promote morality in accordance with their religions.

promoting cooperation between different religions to "be freed from domination of Consumerism."
Suthep resigned from the Democrat Party in November 2013 to lead the protests against Yingluck, whose government tried to pass a controversial amnesty bill that would have absolved the corruption conviction of her brother, former PM Thaksin Shinawatra.
Thaksin has remained extremely influential in Thai politics despite living in self-imposed exile for the past seven years, and is often accused of funding his followers, known as the Redshirts, and other pro-democracy groups from abroad.
Speaking to reporters yesterday, Suthep stressed that his Foundation will only be funded by donations from "Thai patriots."
"Donations to the Foundation will depend on the daily income of each person. It may be 300 baht for some, it may be 300,000 baht for others, but everyone will have an equal vote," Suthep explained. "Our money will have a clear background. We won't be a foundation with obscure funding. It won't be foreigners' money, but it will only be Thai patriots' money. You won't have to doubt who's behind us."