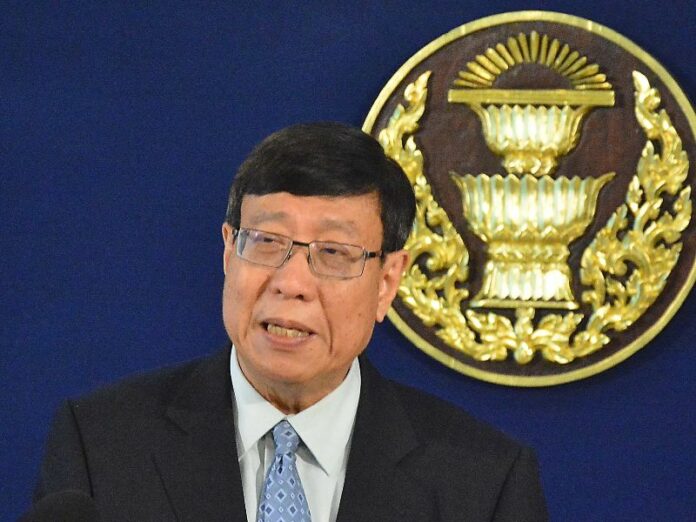 BANGKOK — The top lawmaker in the junta's National Legislative Assembly today said the military government cannot extend its stay in power as demanded by conservative activist Suthep Thaugsuban.
Assembly chairman Pornpetch Wichitcholchai said Suthep's call for the military to stay in power and postpone elections until its national reform efforts are completed, "no matter how long it takes," would contradict the road map it has promised for returning Thailand to civilian rule.
"Everything has to proceed in accordance with the road map," Pornpetch said. "Whatever the [interim] constitution says, we have to comply with it, as the prime minister has already said."
Under the current "road map" laid out by junta chairman and Prime Minister Prayuth Chan-ocha, a new election will take place by September 2016 so long as its draft constitution is supported in a public referendum to be held in early 2016.
At his 30 July news conference, Suthep resurrected the rallying cry of his erstwhile protest movement to call for Prayuth's regime to remain in power.
"Reforms Before Elections" was the chief slogan of the conservative protest movement led by Suthep from November 2013 to May 2014. At the time, demonstrators demanded then-Prime Minister Yingluck Shinawatra's elected government be replaced with an appointed "People's Council" tasked with reforming the country before a new election.
Anti-government protesters display a banner reading "Reform Before Election" on 23 January, 2014, in Prachuap Khiri Khan province.
When Yingluck dissolved the parliament and called snap election in February 2014, Suthep encouraged protesters to block voting and besiege polling stations in some parts of Thailand. The court eventually voided the election result on the ground that voting did not take place on the same day.
Before a new election could be organized, Gen. Prayuth intervened and seized power from the government in May 2014. Suthep became a monk in southern Thailand two months later, spending a year in monkhood before returning to secular life last week.
Gen. Prayuth has not commented on Suthep's renewed call for "reform before election."
Meanwhile, Paiboon Nititawan, a member of the National Reform Council, another body appointed by the junta, said he would push for Suthep's proposal by convincing the council to put the "reform before election" question to the public in the upcoming referendum.
"As far as I have talked to other NRC members, I realize that many agree with this idea," Paiboon said today.
Paiboon said he and other council members will submit a joint request to their chairman to include the question in the referendum within this week.
However, Pornpetch, the NLA chairman, said even if the referendum organizers agreed to include the "reform before election" question, it would not have any legal authority.
"That's just an opinion," Pornpetch said. "The government has no options. It has to only comply with what has been written in the 2014 interim constitution. It was clearly stated; therefore, it has to be so."
For comments, or corrections to this article please contact: [email protected]