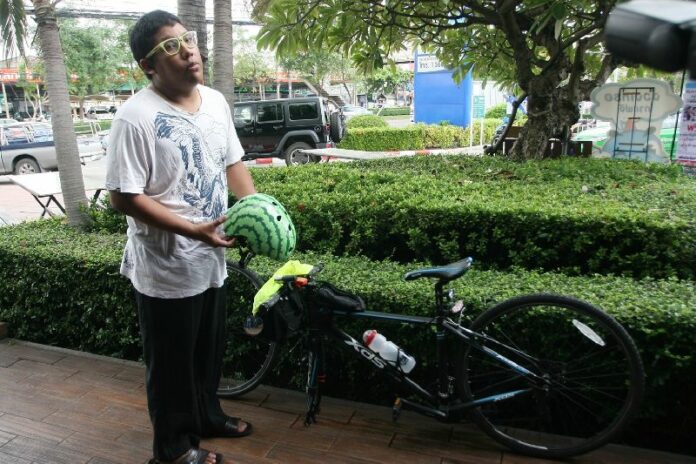 BANGKOK — A musician said a motorcyclist attacked him with a knife during a robbery attempt while he was cycling in Bangkok on Saturday night.
Thitiwat Rongthong, the 25-year-old singer and bassist for The Darkest Romance, told reporters today he was riding a bicycle to watch a show at a bar on Royal City Avenue at around 11.30 pm when a motorcyclist flanked him and forced him to stop on Rama IX Road.
According to Thitiwat, the masked motorcyclist accused him of almost crashing into his bike and then asked how much Thitiwat was willing to pay had he actually crashed into him.
Thitiwat said he attempted to walk away, at which point the motorcyclist drew out a knife and demanded his money.
"I told him I had no money. He tried to search my bag, but he didn't find any money, so he slashed his knife at me, but I twisted away and used my helmet to shield myself," Thitiwat said of the encounter. "The knife hit the helmet. Luckily I wasn't hurt."
Thitiwat claims this watermelon helmet saved his melon. Photo: Facebook
The suspect then reportedly fled the scene on his motorcycle. Thitiwat posted his story online several hours later as a "warning" to other bicyclists, and the post has been widely shared on the internet.
"Usually I don't bike that often," Thitiwat told reporters today. "I sometimes bike around my community or places that have many people around. Now that this of thing happened to me, I think I'll quit biking at night, because I fear for my safety. I don't want to risk myself anymore."
The alleged attack came at a time when Thailand's military government is urging the public to ride bicycles as an alternative to get around Bangkok's notorious traffic.
The government will stage a mass cycling event on 16 August in Bangkok which is expected to draw at least 30,000 people. The event, called "Bike For Mom," is being organized by the government on behalf of Crown Prince Vajiralongkorn to honor his mother, Queen Sirikit, who is set to turn 83 on 12 August.
Police Lt. Col. Sampan Luengsajjakul, deputy superintendent of Wang Thong Lang Police Station, said police are investigating the incident.
"After the victim filed the report, we have dispatched officers to search for information and inspect footage of CCTVs in the area," he said.
For comments, or corrections to this article please contact: [email protected]