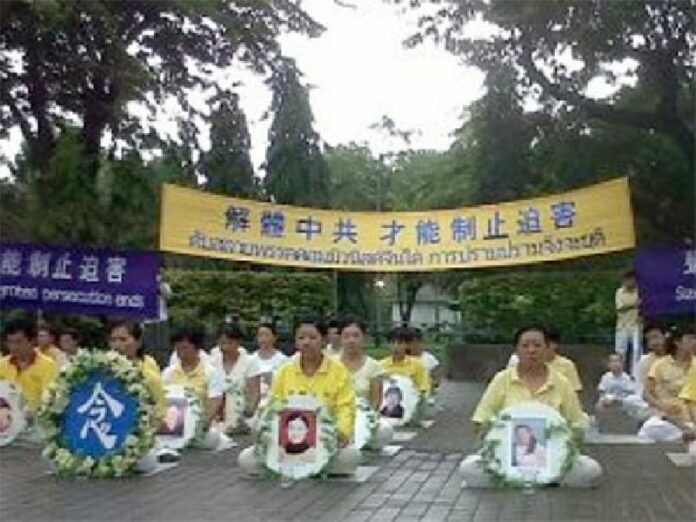 BANGKOK — A decade after being denied the right to form an association in Thailand, a religious group banned in mainland China has been granted that right by a Thai court.
Falun Gong, a spiritual movement started two decades ago in China before being banned, prevailed in its lawsuit against the Ministry of Interior Affairs,which first rejected its application in 2005 on the grounds it might damage Thailand's relationship with China, according to the verdict posted today.
"People naturally have the freedom to practice their faiths, and their actions are protected under the Constitution of the Kingdom of Thailand, unless those actions contradict with citizens' duties or violate peace and order or the good morality of the people," the verdict reads.
The Communist Chinese regime outlawed Falun Gong in 1999, saying the group was a dangerous cult that was inciting disturbances and "jeopardizing social stability." Falun Gong, also known as Falun Dafa, is a highly organized international movement with an aggressive media operation. It publicizes what it describes as persecution and abuse by Chinese authorities and leads frequent protests at their missions around the world.
Three Thai Falun Gong members filed their lawsuit in 2010 on the grounds the society would only engage in lawful activities, like advocating Falun Gong beliefs and promoting holistic health practices.
Paitoon Suriyawongpaisan, one of those three, told Khaosod English he did not think the court decision would affect Chinese relations.
"Definitely not," Paitoon said. "Throughout the past 10 years, our activities have been about making people healthy and promoting good things. We have never changed."
After a lower court sided with the ministry in 2013, the group appealed to the Upper Administrative Court which now has overturned that verdict, arguing that Thai law protects their right to form an association and practice their religious beliefs.
The court also noted that officials have the power to take legal actions against the group, the Society for Study of Falun Gong of Thailand, if it breaks any laws.
Falun Gong originates as a spiritual movement in China in the early 1990s and teaches its followers to master cosmic powers that flow within and around their bodies.
As the sect's popularity grew, Chinese authorities increasingly viewed Falun Gong with suspicion, and eventually banned the movement in 1999. However, the movement has spread widely to other countries, especially in Chinese communities. Falun Gong states that it has more than 100 million followers around the world.
There was no immediate reaction from the Embassy of China in Thailand to today's court verdict.
For comments, or corrections to this article please contact: [email protected]