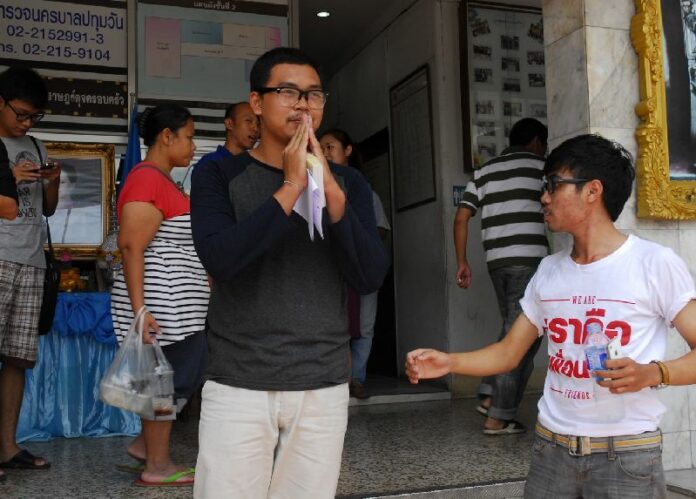 BANGKOK — A student activist was taken into custody Saturday after he stepped off a plane in Bangkok and held overnight for protesting the junta on the anniversary of its coup d'etat.
Three months after a warrant was issued for Songtham Kaewpanpruek over his role in organizing the 22 May protest, police arrested the 23-year-old student upon his return from a trip to Malaysia as he was passing through the immigration checkpoint at Don Mueang Airport.
He was taken to the Pathumwan Police Station for questioning and released Sunday at noon. No new charges were filed beyond those filed several months ago over his role in similar protests in June, police said.
Songtham is a third-year student at the Rajamangala University of Technology.
After being released, Songtham said he was confused by the detention because no one had interfered when he exited the country into Malaysia on 11 Aug. at a border crossing in southern Thailand. He said officers at the Padang Besar checkpoint merely asked him about the existing arrest warrants before allowing him to cross.
Songtham told reporters that during interrogation he insisted on his innocence and pledged to continue his anti-junta activism despite the charges.
"I will move ahead with my campaign, because this is about injustice," he said.

Police drag demonstrators away from a peaceful protest on May 22 at the Bangkok Art and Culture Centre in Bangkok.
Pathumwan Police chief Col. Jarut Saruttayaporn said yesterday that Songtham was let go without posting bail on the condition he report to police at set dates and times yet to be determined.
"Mr. Songtham and his lawyer gave their word," Jarut said.
All manner of protests and political activity has been outlawed in Thailand since the military junta seized power from the elected government in May 2014. Some violators of the ban have been sent to stand trial in martial court and face years in prison if convicted by military judges.
But small groups of students and activists have occasionally defied the ban with sit-ins and other flash protests, including a peaceful gathering in front of Bangkok Art and Cultural Center on 22 May, which was swiftly dispersed by police.
A total of nine people, including Songtham, were charged with illegal assembly for the brief protest. Songtham was also injured in his eye during the confrontation.
Songtham and 13 others later formed the anti-coup New Democracy Movement and staged a demonstration in Bangkok on 25 June. The next day, authorities arrested the 14 activists.
The 14 were held in prison for nearly two weeks during which time they refused to post bail, saying they did not recognize the tribunal's legal authority. Facing an outcry over their detention, the martial court eventually granted them a temporary release. The activists still face charges which carry a maximum penalty of seven and a half years in prison.
Correction: An earlier version of this story indicated Songtham Kaewpanpruek, a third-year student, is 26 years old. He is 23.
Related stories:
Activists Vow to Continue Fighting For Democracy After Prison Release
Student Activists Arrested for Anti-Coup March in Bangkok
Thai Police Forcefully Break Up Student Anti-Coup Protest
To reach us about this article or another matter, please contact us by e-mail at: [email protected].