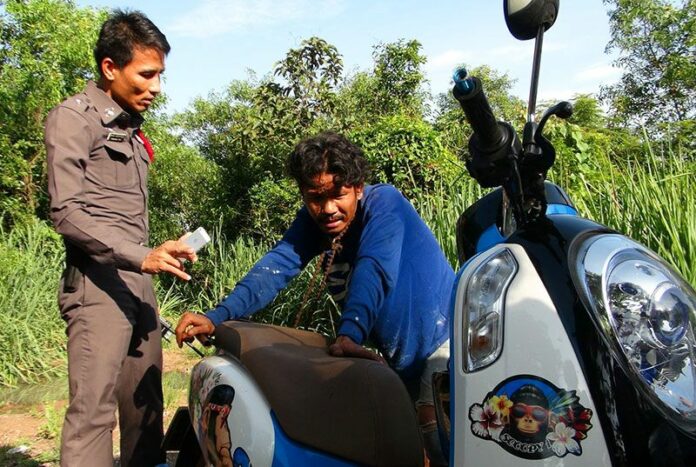 PRACHINBURI — Pichai Angpasi was just being a good Samaritan when he saw a man and woman walking their motorcycle along the side of the road early this morning.
UPDATE: Turns out he made the whole thing up to get out of paying a debt he couldn't afford.
Assuming they'd run out of gas and needed a hand, the 42-year-old Prachinburi man stopped his bike to put the question to them, according to the tale he would later tell of his early morning encounter.
"Have you run out of gas?" he asked them, helpfully.
The pair responded by whipping out long, sharp blades, at which point Pichai realized he was the one in need of rescue. Pichai said they grabbed him, dragged him into the woods, and stole his cash and phone before leaving the scene.
But not before they'd removed the drive chain from his scooter and wrapped it around Pichai's neck and moto, possibly incensed he had tossed the key to it upon realizing he was being robbed. They fastened it with a lock they were carrying with them then left with the key.
A rescue worker cuts a chain taken from Pichai Angpasi's moto and used to tie his neck to it this morning by a couple he'd stopped to help on a road in Prachinburi province.
Dragging the moto now chained to his neck, Pichai made it back to the road, and a passer-by later found him at around 8 am.
As it turns out, police said that stretch of road is a popular place for robbery and assault. They said they are studying security cameras to identify suspects for arrest.
To reach us about this article or another matter, please contact us by e-mail at: [email protected].