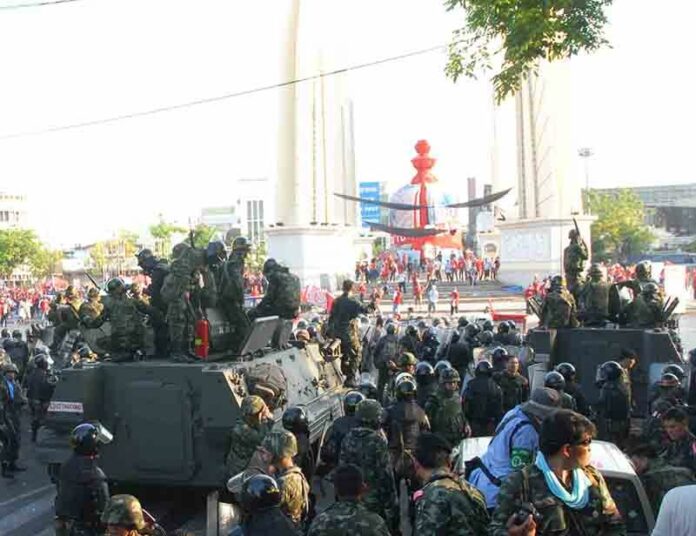 BANGKOK — An unelected committee stacked with members of the military would be empowered to seize control from Thailand's elected government under a clause added to the draft constitution which is expected to go to voters in three weeks.
Academics and former elected politicos have expressed alarm over a clause creating a "Committee of Reform Strategy and National Reconciliation" vested with the authority to "commit or suppress" any action in the event an elected government is unable to exercise its power due to "chaos" in the country.
Voices from both side of the political divide have been critical of the clause, and critics of the junta see it as a way to establish a backdoor for maintaining its influence after a civilian government is restored.
Members of the Pheu Thai Party, which led Thailand until the May 2014 coup d'etat, said that Section 260 of the new charter would confer "dictatorial" power over future elected governments to an unelected body.
"It's like a state within a state. They can dominate by this special power in the constitution," former MP Samart Kaewmeechai told reporters today as he submitted an open letter on behalf of Pheu Thai urging charter drafters to drop Section 260 and other clauses it deems undemocratic. "This constitution is being written under the control and influence of a certain clique in order to perpetuate the power of that clique. In the end, this Committee of Reform Strategy will become a dictator."
According to the clause formalized Tuesday by the drafters of the charter the committee could take action with the approval of two-thirds of its members, and any moves it made would be considered "final" and legally binding both legislatively and administratively.
Only two elected officials would sit on the 23-member committee: the prime minister and house speaker.
That raised an objection from Jantajira Iammayura, a law professor at Thammasat University. In an interview with Matichon, she said empowering bodies to handle crises was the domain of an elected government.
"When a natIon has a crisis, such as a severe natural disaster or war with other countries, these kind of organizations can be set under existing laws, with the prime minister seated at the top," Jantajira said.
The remaining members of the panel would be the senate speaker, commander of the Thai Armed Forces, army chief, navy chief, air force chief, national police chief, a former House Speaker, a former Prime Minister and a former head of the Supreme Court.
Section 260 did not specify who would choose which former officials. Twelve other members would be selected by Parliament.
Former Prime Minister Abhisit Vejjajiva, whose Democrat Party finds rare agreement with its Pheu Thai rivals, also expressed doubts over the clause.
"I understood the intention behind it, but I cannot see, in practicality, how it will be able to solve any problem," he told reporters Thursday. His successor, former Prime Minister Yingluck Shinawatra today took to Facebook to express concern the new constitution may be undemocratic, saying "there is no need" for an agency with such powers.
Supporters of the clause have sought to deflect criticism about its far-reaching powers by insisting the committee would provide a way out for the country in the event of political gridlock.
The deputy chairman of the Constitution Drafting Committee likened the emergency power to a crucial emergency service.
"It's like preparing a fire truck in the event of a fire," Manit Suksomjhit said Friday. "If there's no fire, there's no need for the fire truck."
Serving on the committee would be a "special duty," he added.
"It's a tool for solving problems that cannot be solved by the cabinet under its existing power and duty," Manit said. "This is a special duty. It's not a special power as many people have misunderstood. And these duties may be or may not be used at all. It depends on the situation."
Running with Manit's metaphor, Pheu Thai's Samart today said, "I'm worried that some people will often try to light the fires themselves because they want the crisis to start."
The new constitution – Thailand's 20th – is being drafted under the oversight of the military junta which seized power amidst anti-government protests that paralyzed parts of Thailand.
The junta has promised elections in September 2016 at the earliest, with a new government to be formed by early 2017.
Since 2005, Thailand has been rocked by series of mass protests that sought to disrupt the governments and force them to step down from power. The campaigns have been driven alternatively by the Yellowshirts and Redshirts when the government has been led by their faction rivals.
In the latest cycle of seasonal uprisings, Yellowshirt protesters took to the streets in November 2013 to demand the Redshirt-backed government resign, citing corruption and nepotism in the administration.
Then-Prime Minister Yingluck responded by calling a snap election in February 2014, but the poll was boycotted by protest leaders, who insisted an unelected "People's Council" be established to rule the country and implement reforms prior to any election.
Following months of protests and counter-protests in which more than 30 people died, the military stepped in and seized power, ostensibly to restore peace and order in the country.
To reach us about this article or another matter, please contact us by e-mail at: [email protected].