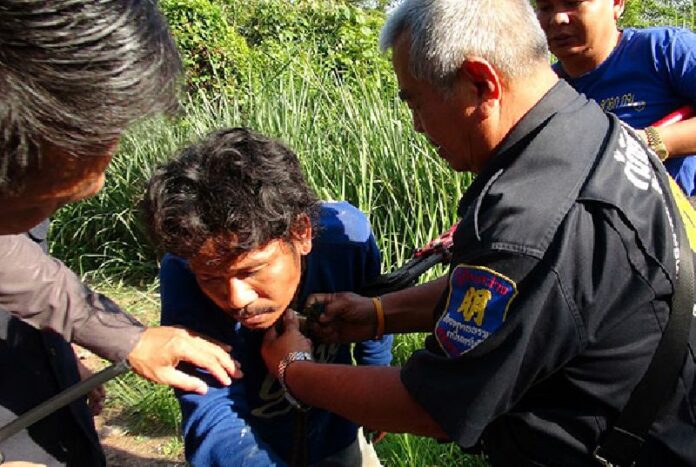 PRACHINBURI — Pichai Angpasi said he was just being a good Samaritan when he saw a man and woman walking their motorcycle along the side of the road early this morning and stopped to offer them help.
In the yarn he spun for authorities hours later, after he was found with a rusty chain around his neck and his moto, Pichai was the unwitting victim of a dastardly duo who robbed him at knifepoint along a road in Prachinburi province.
The problem with that story was that it was all made up, according to Police Col. Thaweesak Kerdpol, and fell apart under later questioning,
Why such a bizarre tale? Thaweesak said Pichai went full victim-mode to put off an overdue debt payment.
This morning Pichai told police he was dragged into the woods and robbed by a couple who then wrapped a chain around his neck and motorcycle.
After some routine questions about his story led to it falling apart, police said Pichai then confessed to being a fabulist.
Police said he told them he needed a way out from paying 3,000 baht for a debt he could not afford.
"So he made up the story to extend the deadline of his debt," Thaweesak said, "The reason why he chose the story about chain around his neck and the robbery was because he wanted sympathy and pity."
He said Pichai is being held for additional questioning and may face charges for filing a false report.
Related stories:
Compassion Proves Weak Link for Man Chained to Moto
To reach us about this article or another matter, please contact us by e-mail at: [email protected].