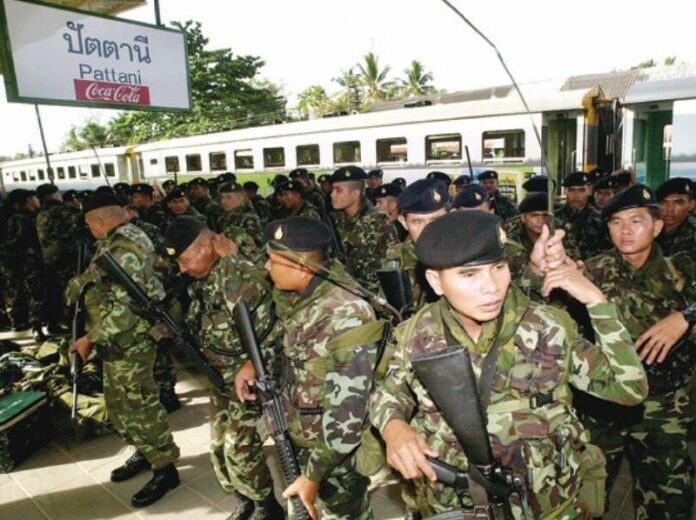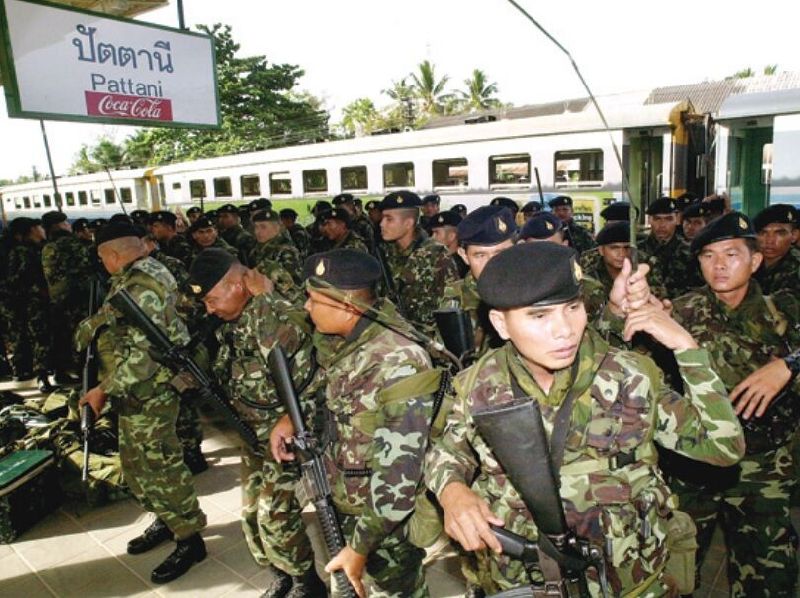 KUALA LUMPUR — Stepping out of the shadows of their long war against the Thai state, representatives from six separatist groups in southern Thailand said they are willing to lay down their arms if Bangkok formalizes peace talks as a national priority.
In a historic news conference, the representatives spoke with Thai reporters at the Premiera Hotel in Kuala Lumpur, Malaysia, to lay out their aims and expectations after wrapping up talks there with negotiators from Thailand's military government.
"We formed Mara Patani to make our struggle a peaceful one," said Awang Jabal, chairman of umbrella organization Mara Patani. "The use of violence and weapons has to go through steps to end violence from both sides. It depends on mutual understanding and trust."
The Mara Patani delegation was comprised of representatives from the six groups which have been struggling for the secession of Thailand's three southern border provinces for the past decade. They included: Barisan Revolusi Nasional (BRN), Gerakan Mujahidin Islam Patani (GMIP), Barisan Islam Pembebasan Patani (BIPP), PULO-DSPP, PULO-MKP and PULO-P4.
Awang, also representing the BRN, said he invited Thai media so they could "understand the true ways of Mara Patani, which are transparent matters," and to help support a dialogue to bring peace to the three southern provinces of Yala, Pattani and Narathiwat.
Ariee Muktar of PULO-MKP said an accurate portrayal of the negotiations by Thai media would help bring peace to the Deep South.
Sukree Hari, a BRN representative, outlined the proposals he said were offered Tuesday to the Thai government team, which has yet to comment on the talks.
Sukree said Mara Patani submitted three preliminary proposals as a condition for peace. Firstly, the Thai government must place the negotiations on the national agenda, which would bring them to the parliament, thus ensuring changes in Thailand's government would not disrupt the process, as happened the last time talks were brokered.
"Setting this issue as a national agenda is an important matter, because if it is not a national agenda, there will be no continuity in the dialogue," Sukree said.
They also asked for recognition of Mara Patani as the legitimate negotiating party and legal immunity for its leaders.
The aftermath of a roadside bomb attack in Narathiwat province in December 2014.
An array of shadowy militant groups are currently battling to secede the provinces of Pattani, Narathiwat and Yala from Bangkok's rule. The Muslim-majority region, known colloquially as the Deep South, was an independent Islamic nation called Patani before it was annexed by Thailand in the early 20th century.
More than 6,200 people have died since the latest wave of secessionist violence broke out in January 2004, according to data compiled by rights groups.
In 2013 the government of Prime Minister Yingluck Shinawatra sought a dialogue with the BRN. However, the discussion was never declared a national agenda – as demanded by BRN at the time – and the two parties failed to reach any substantial conclusion. Issues about autonomy and possible independence of Patani were hardly discussed.
Further dialogue was quashed when anti-government protests broke out in Bangkok in November 2013. The military later seized power from in a coup d'etat in May 2014.
The military junta later expressed its willingness to restart talks and on Tuesday dispatched a team of negotiators to the meeting in Kuala Lumpur. The team, led by a Thai general and junta adviser, has not publicly commented on the dialogue so far.
Group May not Speak for All
The extent of Mara Patani's sway over the splintered insurgency is unclear, but its leadership made clear their desire to bring all parties into the fold.
At today's press conference, the BRN's Awang said other civil groups were welcome at the negotiating table.
"Mara Patani is open for all groups to join us. It's not only confined to these six groups. NGOs and other civic movements can join us," said Awang, the Mara Patani chairman. "If all groups are in Mara Patani, incidents will decrease. But it will take some time."
He acknowledged divisions within the independence movement over strategy.
"I believe there will be groups who are opposed to dialogue, but we have to move forward with it," he said.
Founded five decades ago, the BRN is thought to be responsible for many attacks in the Deep South, where it claims to have 9,000 active insurgents operating.
BRN representative Sukree admitted his group has been waging armed struggle against security forces for years but insisted it does not intentionally target civilians.
"We have no policy of attacking soft targets," he said."We focus on hard targets. Sometimes, soft targets are affected, but they are victims of collateral damages."
He also acknowledged BRN wasn't the only group at the table engaged in the violence.
"Other groups like PULO, GMIP, BIPP have two branches like us: a political branch and an armed branch," he said.
To reach us about this article or another matter, please contact us by e-mail at: [email protected].