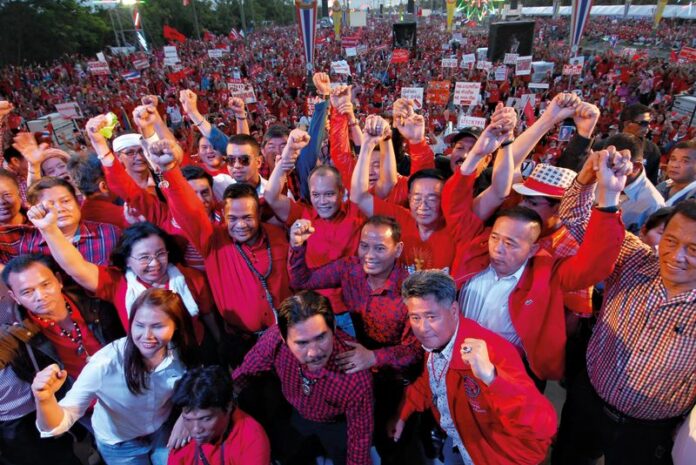 BANGKOK — The ruling military junta is considering whether to allow Redshirt leaders to hold a news conference to announce their stance on Thailand's proposed constitution charter after one was held yesterday by a political archrival.
Jatuporn Prompan, a core leader of the Redshirt movement, said he will hold his news conference on Sunday in response to one staged by anti-Redshirt activist Suthep Thaugsuban yesterday in defiance of a ban on all political activities by the military junta, which seized power from a Redshirt-backed government in May 2014.
"I will exercise the same rights as Suthep," Jatuporn said yesterday. "I hope we will be treated in the same way that Suthep was."
Redshirts have long complained of a double-standard from the junta, which came to power after months of anti-government street protests led by Suthep.
Junta spokesperson Col. Winthai Suvaree said the regime has not ruled whether to grant the Redshirts that same right. He told reporters today that Jatuporn has to first submit a request to the junta, which will consider it.
"NCPO has to deliberate on the letter, what kind of details are in it," Winthai said, referring to the junta's official name, the National Council for Peace and Order. "The letter can be submitted through the NCPO's channels, but whether we will approve the activity; we will have to deliberate on it."
Public expression of political opinions has been tightly suppressed since the junta staged its coup d'etat. Protests are banned, and independently organized discussion forums need to be approved by the junta first.
One of the rare exceptions in which the junta has granted such permission included Suthep's news conference held Tuesday. Suthep, the firebrand activist who helped lead the protest that paved way for the 2014 coup, said at the presser the new constitution prepared under the junta's guidance "fits Thailand."
"This charter fits the situation in Thailand. It's like a saying by someone that we cannot always dress in farang clothes. It would not look handsome," Suthep said. "We have to tailor them to the size of Thai people. We think this constitution fits the situation in the country."
Suthep also said he believes the charter is "good enough" to be put to referendum next January.
His comment came a week after the military government announced a ban on "campaigns" and any "mobilization" in the run-up to the referendum, both for and against the charter.
Speaking to reporters yesterday, Jatuporn said the Redshirts' press conference will be within the bounds set by the military government.
"We won't be mobilizing or inciting anyone. We will only announce our stance to exchange opinions. Whoever agrees with us will be considered as one opinion. Whoever disagrees will also be considered as another opinion," Jatuporn said.
Related stories:
Redshirt Leader Vows to Defy Charter Campaign Ban
Referendum Campaign Ban Extends to Social Media, Line, SMS
In Run-Up to Charter Vote, Govt Forbids Campaigning
To reach us about this article or another matter, please contact us by e-mail at: [email protected].