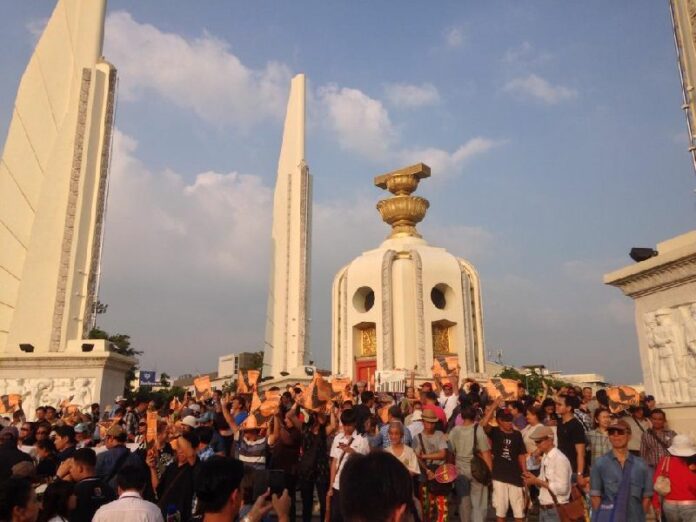 BANGKOK — A demonstration to mark the ninth anniversary of the 2006 military coup d'etat ended tonight without confrontation with the authorities, who yesterday ordered the march be called off.
Activists from the New Democracy Movement led scores of protesters on a march from Thammasat University to the Democracy Monument at around 5pm where they rallied around the historic site to deliver speeches against the military government and sing songs until dispersing without incident just after 9pm.
"Return power to the people!" read one of the banners. "Down to dictators!" proclaimed another.
The protesters denounced both the 2006 coup, which ousted then-Prime Minister Thaksin Shinawatra on this day nine years ago, and the most recent coup which toppled a pro-Thaksin government in May last year. They demanded a swift return to democratic rule in Thailand.
Approximately 100 police officers were posted around the area to observe. They interfered briefly to order the organizers to take down some large banners from the monument. No arrests were made.
The military junta, which came to power when it staged Thailand's latest coup in May 2014, earlier instructed the activists to abandon their plans for the march, citing the ban on protest it has imposed since the coup.
Police officers also arrived at an earlier panel discussion at Thammasat University, also organized by New Democracy Movement, to ask organizers not to go ahead with the march. But the protesters eventually set out from the university compound without intervention from police.
Video of today's march and rally by Matichon TV.
It was unclear whether today's protest leaders will face any legal repercussion for defying the junta's ban on protest. The 14 leaders of the New Democracy Movement are still facing criminal charges for an anti-junta march in June at the same location. They were later arrested and held in prison for nearly two weeks before a martial court granted them temporary release.
Speaking at the panel discussion before the march, activist Pakorn Areekul said he was opposed to Thaksin before the military seized power from his government in 2006.
"When the coup happened, I felt relieved that Thaksin was gone, but I wasn't glad about the coup," Pakorn said. "After that, society went through a process of turning Thaksin into a devil. But in reality, there are more evils in Thailand than just Thaksin."
Pakorn said Thailand has other problems now, such as the inability for people to express their opinions or open debate .
Social activist Sombat Boonngam-anong, who was among the first to protest against the 2006 coup, said at today's forum that what happened nine years ago derailed development of democracy in Thailand. He argued that Thaksin would have lost power without a coup anyway, and many lives would have been saved.
"If there was no coup d'etat on 19 Sept., 2006 , Thai society would still have a taxi driver named Praiwan Nuamthong [who committed suicide to protest the coup on 31 Oct., 2006]. No color-coded politics. No events in April 2010, and people wouldn't have died in that violence," he said.
He also suggested that coups in Thailand are tolerated not only because the military is willing to seize power from elected government, but also because some portions of the public tolerate it.
"If you don't want to see any more coups, you have to change people's minds," Sombat said.
Related stories:
Police Stand by as Coup Anniversary Protesters Rally
To reach us about this article or another matter, please contact us by e-mail at: [email protected].