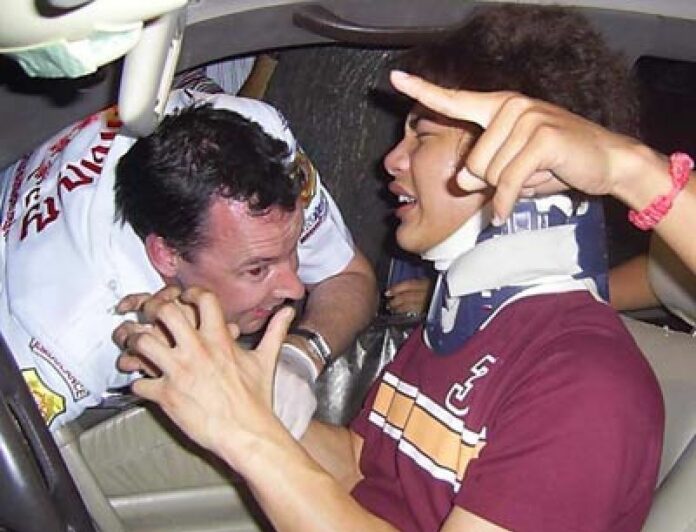 BANGKOK — The Supreme Court sent the son of a well-known businessman to jail Friday for killing a bus conductor with his Mercedes-Benz eight years ago, reversing a previous verdict that spared him from jail term on the grounds of mental illness.
Kanpitak Patchimsawas, 33, was found guilty of premeditated murder, attempted murder and physical assault, and sentenced to two years and one month in prison. His parents, millionaire Kananek Patchimsawas and former Miss Thailand Sawinee Patchimsawas, were not in court to hear the verdict.
The dead woman's daughter was, however.
"I have gone through so much sadness, despair and hopelessness. But today, my fight is successful. I am glad to have successfully fought for my mother," said Sucheera Intarasuwansaid, the daughter of bus conductor Saichon Luangsaeng.
In 2007, Kantipak's car was hit by a public bus in front of Soi Sukhumvit 26. An argument between Kantipak and the bus driver soon ensued, escalating when Kantipak hit the driver in the face with a rock.
Kantipak then returned to his car, and as a crowd started to gather around his vehicle, slammed his vehicle into the bus stop, killing bus conductor Saichon Luangsaeng and injuring a number of others.
For his legal defense, Kantipak said he was suffering from mental illness and unable to control himself when the incident took place. His insanity plea was rejected by the Court of First Instance in 2009, which sentenced him to 10 years in prison, but was later accepted by the Court of Appeals in 2013, which handed down a suspended jail term of two years and one month.
The victim's family appealed the verdict, and today the Supreme Court reversed the previous court's ruling that found Kantipak to be mentally unstable.
According to the Supreme Court, the fact that Kantipak conversed with the bus driver, police officers and other witnesses minutes before the altercation took place, and that he attempted to drive away from the scene proved Kantipak was in control of himself at the time.
The court also argued that Kantipak was also somehow allowed to drive by his family, in spite of the claimed history mental illness.
"The court has considered the circumstances, age, history, behavior, mental state and environment of the defendant. The court deemed it inappropriate to suspend the punishment on charge of premeditated murder, which has been suspended by the Court of Appeals," the verdict read.
Kantipak, who showed no obvious sign of emotion as he listened to the verdict with his lawyer, was immediately taken away to prison after the judges finished the read-out.
Kerdphol Kaewkerd, a lawyer who represented the dead bus conductor's family, told reporters he felt two years in prison was too lenient, in light of the 10 years Kantipak initially received.
"But the case is now considered closed. We have to accept the court's judgment. We are satisfied," Kerdphol said. "What we can do now is to forgive him, and we forgive him. We did our best and won justice for the deceased and her daughter."
He added that Kantipak's family had also paid the victim's family around 2.2 million baht in compensation.
To reach us about this article or another matter, please contact us by e-mail at: [email protected].