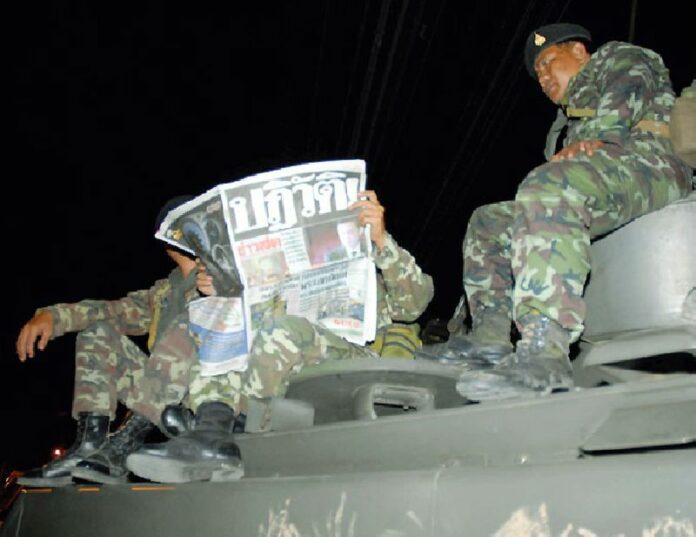 BANGKOK — A pro-democracy group vows to go ahead with a demonstration tomorrow to mark the anniversary of the 2006 coup d'etat despite being warned to call it off by the military junta.
On the eve of the nine-year anniversary of the previous coup; which ousted then-Prime Minister Thaksin Shinawatra on 19 Sept., 2006; a junta security wing reminded activists of the New Democracy Movement by letter today that the regime will not allow any activity which may affect peace and order.
The group was planning to mark the anniversary with an afternoon panel discussion at Thammasat University followed by a nighttime march to the Democracy Monument.
But the letter from the Armed Forces for Maintaining Peace and Order, obtained by Khaosod reporters, states that it has yet to receive a request from the activists to hold the event, and says the junta will only approve events that take place inside Thammasat's campus.
The current military junta has banned any kind of protest, public gathering and political activity since it seized power from a pro-Thaksin government in May 2014, except events directly approved by the regime.
Some dissidents who have defed the ban have been arrested and sent to stand trial under a military court, where they face up to two years in prison.
However, Rangsiman Rome, a Thammasat student and leader of the movement, told reporters his group will go ahead with the forum and march tomorrow, despite the junta's warning.
"We already sent a letter to ask for permission from the NCPO, but we never received any reply," said Rangsiman, referring to the junta's formal name, the National Council for Peace and Order.
Speakers at tomorrow's events include long-time activist Sombat Boonngam-anong, who was among one of the first who protested the 2006 coup nine years ago, and political scientist Puangthong Pawakapan.
Rangsiman and and thirteen other members of the New Democracy Movement are still facing criminal charges for an anti-junta march in June at the Democracy Monument. They were later arrested and held in prison for nearly two weeks before a martial court granted them temporary release.
Turning Point
The 2006 coup is regarded by many experts as a crucial turning point in Thailand's political crisis. It pit Thaksin, a populist leader popular among poor and rural voters, against the Yellowshirts, an anti-Thaksin coalition of middle-class urbanites and traditional elites.
The Yellowshirts accused Thaksin of corruption, abuse of power and anti-monarchy sentiments. Starting in 2004, Yelowshirt leaders organized street protests aimed to remove Thaksin from power.
Two days before a major demonstration by the Yellowshirts and a counter-rally by Thaksin supporters, the military intervened to seize power in a coup d'etat as he was about to give a speech at the United Nations in New York City.
However, the coup failed to end Thaksin's influence in Thai politics. His allies and proxies later returned to power by winning elections, with Thaksin as the de facto leader calling the shots from exile. The power struggle between the pro- and anti-Thaksin factions continues to this day.
Many political scientists also viewed the 2006 coup as the event that unwittingly turned Thaksin into a martyr for democratic causes among his supporters.
To reach us about this article or another matter, please contact us by e-mail at: [email protected].