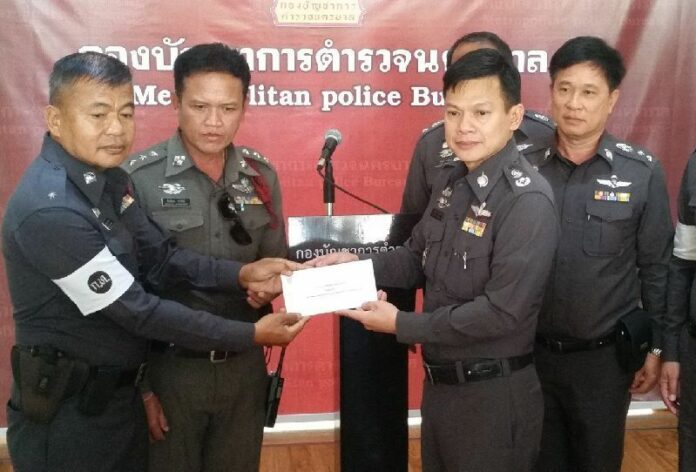 BANGKOK — Thailand's police force is more accustomed to criticism and calls for reform when it comes to the international community. But that changed today with a US-based organization honoring the force for creative economics.
At the 25th annual Ig Nobel awards ceremony, a satirical prize in economics was bestowed upon the Bangkok Metropolitan Police Bureau for a short-lived policy of rewarding police officers who refuse to take bribes.
Organizers of Ig Nobel, a parody of the prestigious Nobel Prize, named the metro police a winner "for offering to pay policemen extra cash if the policemen refuse to take bribes," according to its website.
The award is organized by science humor magazine "Annals of Improbable Research." Its stated aim is to recognize scientific achievements that "make people laugh, and then think."
Other winners of this year's prizes included: Chemistry to partially un-boil an egg, the discovery that "huh?" exists in every human language and proof that nearly all mammals empty their bladder in about 21 seconds.
The Metropolitan Police Bureau did not send any representatives to attend the awards ceremony, which was held in a Harvard University auditorium in Cambridge, Massachusetts. It was the second win for Thailand in recent memory. A 2013 Ig Nobel in public health was awarded for decades-old research into surgical solutions to cope with an epidemic of penis involuntary amputations.
Today's award recognized a policy announced in early October 2014 to combat rampant bribe-taking among traffic police. Under the policy, officers who refused to take bribes would receive a cash reward of up to 10,000 baht.
Under Thai law, state officials including police who accept bribes from the public face life in jail if convicted. However in reality bribery is extremely common among the Thai bureaucracy, especially the police and military forces.
The much-ridiculed policy only lasted about two weeks before being canceled, after at least two police officers received 10,000 baht each for refusing to take bribes.
Explaining the scheme's ignoble end, MPB commander Sriwarah Rangsipramnakul said the measure ended up causing criticism in social media and damaging the force's reputation.
Nevertheless, the idea of rewarding police officers for performing their duty was resurrected in the aftermath of last month's bomb attack that killed 20 people in central Bangkok.
After offering to pay 3 million baht to members of the public providing information leading to the arrest of those responsible, the Royal Thai Police eventually handed the reward to themselves for taking one suspect into custody in a raid of an apartment in capital's Nong Chok district.
The suspect, Adem Karadag, has denied any involvement in the bombing and suggested he was set up by a human trafficker, according to his lawyer.
Related stories:
Noodle Vendor Gives Free Meals to Traffic Violators
BKK Police Defend 'Anti-Bribery' Cash Reward