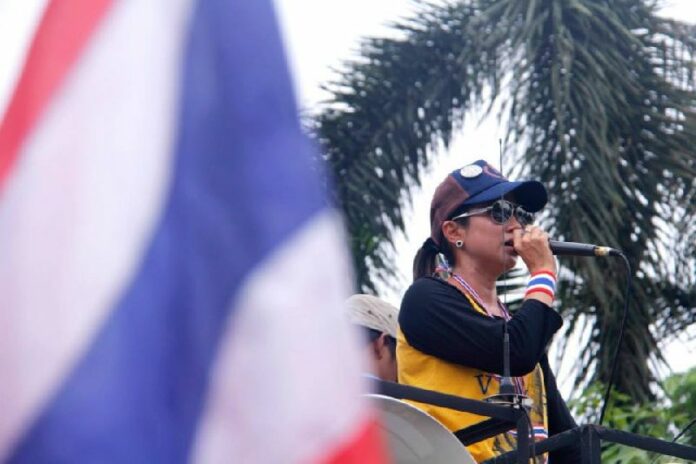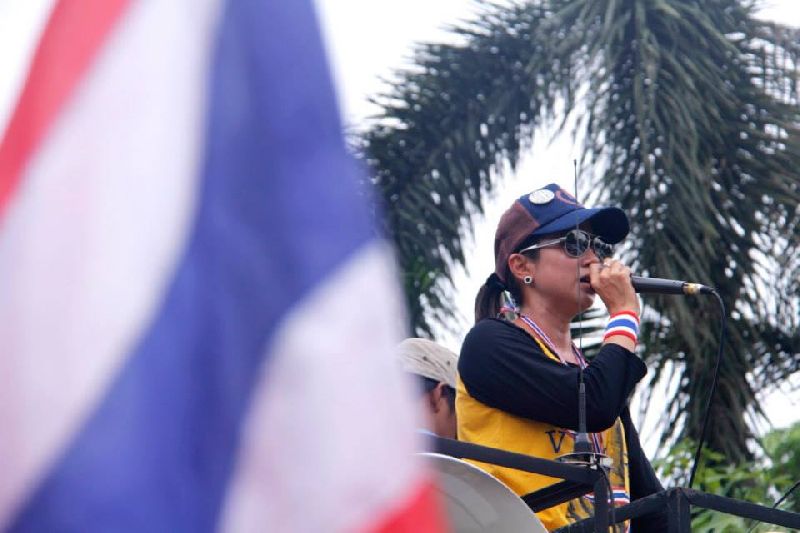 BANGKOK — A former leader of the group which organized anti-government protests preceding the 2014 coup is reconsidering her application for an officer position in the Royal Thai Police, a police official said, after her candidacy was criticized as political favoritism.
Chitpas "Tant" Kridakon, 30, is being considered for the position of deputy inspector in the force's 191 emergency response unit, Royal Thai Police chief Somyot Pumpanmuang confirmed yesterday. Although Chitpas did not attend police academy, he said such applicants can be considered if they possess the "special talents and abilities" needed by relevant agencies.
"As the commander of the Royal Thai Police, let me assure my fellow police officers that I will exercise my power and duty in accordance with the laws to consider [this matter] carefully, and I will uphold the principle of appropriateness, regulations and laws," Somyot said yesterday.
He insisted police are treating Chitpas' application like any other.
Chitpas and PCAD leader Suthep Thaugsuban at her graduation ceremony in Bangkok on 17 June, 2014. Photo: Chitpas Kridakon/Facebook.
Chitpas, once a scion of the family which owns Thailand's largest brewery, was one of the core leaders of the People's Committee for Absolute Democracy with the King as Head of State, or PCAD, during its campaign to oust the elected government from November 2013 to May 2014. The protest came to an end when the military intervened and staged a coup on 22 May, 2014.
In December 2013, Chitpas told AFP that she believes Thai people lack "true understanding of democracy … especially in the rural areas," sparking condemnation from the government's supporters, which consisted mostly of urban and rural poor.
During the weekend, a Facebook page published photos purporting to show some police officers tieing black ribbons to their radios in protest of Chitpas' application.
According to the "Thai Police Fight Fight!" group on Facebook, officers were opposed to Chitpas' joining the force because of her history of frequently denouncing the the Royal Thai Police during the anti-government protests she helped lead last year.
Many supporters of the former government also accuse the police of appointing allies of the military junta into its ranks.
Images from a police Facebook group showing black ribbons said to be in protest of hiring Chitpas. Photo: 'Thai Police Fight Fight'/Facebook
"Applying for police job is just an excuse. There's more to this than that," said Siriwat Chupamattha, a coordinator of the Redshirt umbrella organization in Payao province, which supported the toppled government. "There's a hidden agenda."
But Police Maj. Gen. Panurat Lakboon, commander of the 191 police unit, said he believes Chitpas would be a great contribution to the force because of her English language skills.
"It is nice of Ms. Chitpas to apply for a job with the police, because we need female police officers who are talented in English, in order to prepare for Thailand's entry to the ASEAN Economic Community," Panurat told reporters yesterday.
He added that he heard that Chitpas was thinking of withdrawing her application due to the wave of criticism.
"That would be a pity," he said.
Related news:
Singha Beer Family Scion 'To Change Surname'
Singha Beer Brewery Distances Itself From Anti-Govt Socialite
To reach us about this article or another matter, please contact us by e-mail at: [email protected].