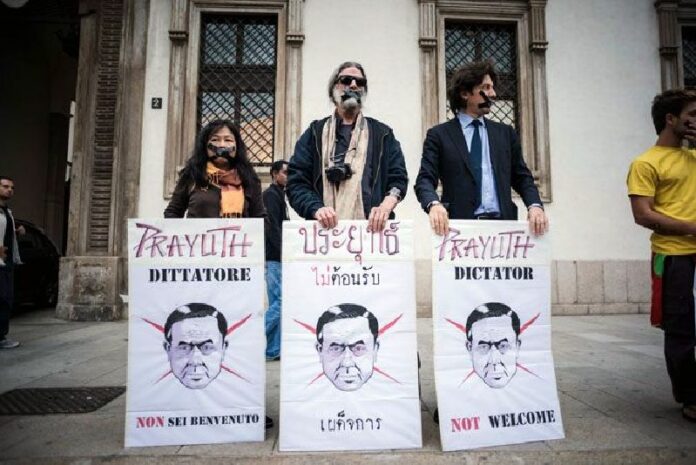 BANGKOK — The military government has urged Thai expats in the United States to refrain from protesting junta chairman Prayuth Chan-ocha's upcoming visit to the United Nations headquarters in New York City.
Gen. Prayuth, who came to power by staging a coup, is due to attend the UN General Assembly meeting Thursday – 1 Oct. in Manhattan, where anti-coup Thais are expected to greet the general's visit with a protest, similar to the small rallies which met his trips to Milan and Tokyo last year. A government spokesman today urged protesters to think twice.
"I think this concerns the face of Thailand," Maj. Gen. Weerachon Sukhonthapatipak said. "Whoever intends to discredit the government, I want to urge them to reconsider their thoughts, because doing so would mean discrediting Thailand as well. I think people who have good intentions for the country and Thai people can see that they shouldn't do that kind of thing."
Yesterday a group called Red USA put out a call online for protesters to gather Saturday at a park near the UN headquarters.
"We are inviting Thais to come out and exercise their rights in the Land of the Free," it said. "Do not wait for anyone else. It is us who will return our country to normalcy again."
Prime Minister Gen. Prayuth Chan-ocha samples langsat today at a farming produce exhibition at Government House in Bangkok.
However Weearachon pleaded with those looking to make a statement to think of what it would say about Thailand.
"I think the impact of those actions won't be just on certain individuals," he said. "It would be on the entire country … it may affect the country's face. We will be seen as a society that is still divided."
When a reporter asked Weerachon whether the government would directly ask anti-coup critics not to stage the protest, the spokesman said, "We won't, because it's an issue about individuals rights. But whatever they do, they should refrain from causing frictions or using words that will cause ill feelings."
Speaking at Government House today, Gen. Prayuth said he is not concerned by prospects of being met by protesters during his trip.
"They will take care of me. Don't worry. It's a world-class summit," Prayuth said, adding "I won't be distracted. They criticize me every day anyway. Why would I be distracted?"
Nevertheless, the junta chairman, who also serves Prime Minister, echoed the worry a protest against him during the trip may negatively impact Thailand's image.
"So many countries will attend the meeting. Aren't they embarrassed? Our country is our country. If you want to pick a fight with me, do it in the country. Don't pick a fight elsewhere. I'm embarrassed." he said.
Since coming to power in May 2014, Gen. Prayuth has imposed a ban on protests, political activities and any public challenges to his regime. Some violators of the ban have been sent to stand trial under martial court, where they face up to two years in prison if found guilty by the all-military judges.
Since the coup, Thai activists living abroad have staged small protests when Prayuth visited their countries of residence, such as Milan, Italy in October 2014 and Tokyo, Japan in February 2015.
Related stories:
Junta Spokesperson Dismisses Anti-Coup Protest in Japan
Govt Insists Images of Milan Anti-Prayuth Protest Are Fake
To reach us about this article or another matter, please contact us by e-mail at: [email protected].