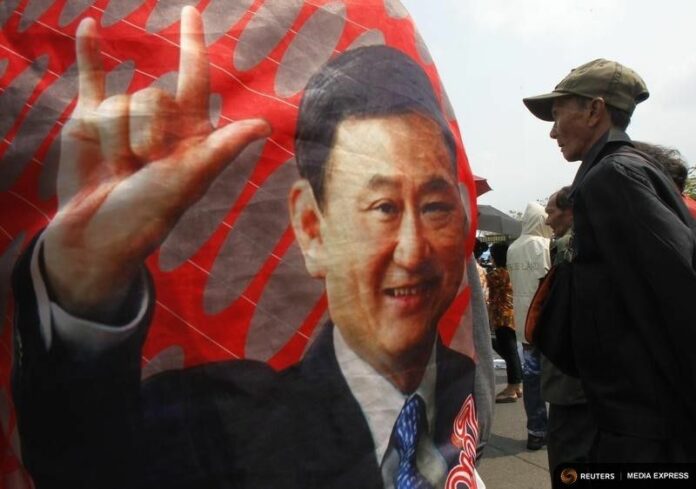 KHON KAEN — The rural heartland of deposed leader Yingluck Shinawatra and her exiled billionaire brother Thaksin is hurting as a result of the military government's economic policies, stirring discontent and the threat of protests.
The removal of generous agricultural subsidies has left rice farmers in northeast Thailand struggling with mounting debts, and they will get little relief when they sell their crop in coming months with rice prices near an eight-year low.
Petty crime is on the rise and retailers are struggling. The vast Platinum 168 shopping mall on the outskirts of the provincial capital of Udon Thani was built during the boom, but it is now less than a third occupied and no longer charging tenants rent.
"People are complaining about the rising costs of living, of having no money for spending," said Teerasak Teecayuphan, mayor of the neighboring provincial capital of Khon Kaen. "Their patience will gradually run out. Sooner or later this pot will boil over."
Thaksin's Redshirt supporters, many of whom hail from the northeast, have punctuated a decade of political turmoil in Thailand with protests on the capital's streets.
Military attempts to disperse 10 weeks of protests in 2010 left scores dead and sparked arson and riots.
Thaksin recently told his supporters to stay calm and "play dead," but some in Thailand's poorest region say it is only a matter of time before discontent overcomes fear of the military and people again take to the streets.
"People want to protest," said Sabina Shah, a local leader of Thaksin's Redshirt supporters in Khon Kaen.
"But we have to wait for the right trigger. If we come out now in small numbers it's suicide. We are just lying low and waiting for the opportunity – when the government argue among themselves."
The military toppled Yingluck's government in a May 2014 coup and have zealously enforced a ban on their political activity.
Both Shinawatras mobilized the rural poor to deliver landslide electoral victories with a mixture of development projects, social benefits and subsidies.
Many in the northeast, known as Isaan, think they are paying an economic price for their political allegiance.
Coup leader and Prime Minister Prayuth Chan-ocha represents a largely Bangkok-based establishment that reviles the Shinawatras' populist policies and is threatened by their rural support base.
His government has been austere in support for agriculture, which accounts for just under 10 percent of the country's economy.
"It is quite bad for farmers, we have heavy debt," said Pursudar Koyto, in Ban Kampom, a village surrounded by verdant rice paddy fields nearly ready to harvest. "Prayuth's government could have done more, like what they did in the Thaksin era."
While incomes improved under the Shinawatras, household incomes in Isaan are still the lowest in Thailand at just over 19,000 baht (USD$522.98) per month. That is less than half the 43,000 baht of the Bangkok region, according to government statistics for 2013, the latest data available.
Closed stores at Platinum shopping mall in Udon Thani province on 15 Sept., 2015. Photo: Reuters / Jorge Silva
Military Warns of National Fallout
The junta has now made an about-turn on policy to breathe life into a moribund economy and head off rising discontent.
Prayuth in August appointed Somkid Jatusripitak – one of the architects of Thaksin's policies – as his economic czar.
Somkid has prioritized reviving the rural economy, which employs nearly 40 percent of the workforce.
"They are suffering," he told Reuters in an interview. "If these people don't have enough purchasing power it will hurt the whole system."
Southeast Asia's second-largest economy has undershot government targets. The central bank cut its GDP growth forecast to 2.7 percent from 3 percent on Sept. 25, and to 3.7 percent from 4.1 percent for 2016. In 2014, growth was the slowest in three years at 0.9 percent.
Somkid has announced a raft of measures, including soft loans through village funds, but the jury is still out on whether he can spur more growth. Somkid said he would inject more cash into the rural economy if needed.
Rice mill workers check and classify rice quality in a rice mill in Khon Kaen province on 14 Sept., 2015. Photo: Reuters / Jorge Silva
Worse to Come
The signs of economic malaise in Isaan are widespread. Private investment, vehicle sales and property values have all fallen and farmers in the world's second-largest rice exporter expect things to get worse before they get better.
Cash is already running out and many are selling cars and land to repay loans. Credit is scarce as banks tighten lending to battle rising bad debt.
"I have to borrow to pay some debt back every year," said rice farmer Khamkong Banphod, in the village of Ku Kaew near Udon Thani.
"Those facing hardship are the people who invested a lot of money and are now facing losses. They have their debt problems and are angry with the government."
The margin for millers has been razor-thin since subsidies ended, said Somsak Tungphitukkul, who owns rice mills in Khon Kaen province. Many mills cannot turn a profit and have been mothballed or closed, he said.
"It's going to be a nightmare for the rice industry if the government doesn't do something when the new crop comes in," he said.
Story: Reuters / Pairat Temphairojana and Simon Webb
To reach us about this article or another matter, please contact us by e-mail at: [email protected].