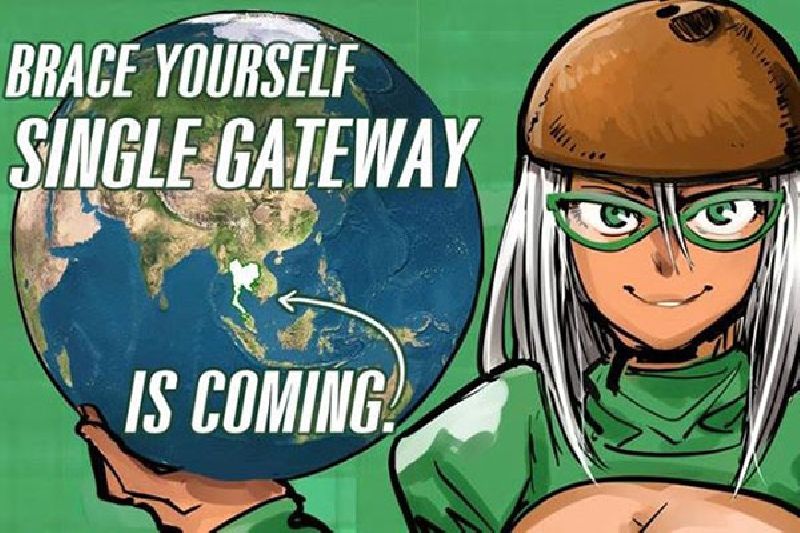 BANGKOK — Facing broad criticism to its plan to funnel all internet traffic through a single, government-managed choke point, the military government now insists the project has not been initiated despite evidence to the contrary.
Weeks after the cabinet ordered officials to "speed up" development of the single-gateway project, officials from the top down have done an about-face after internet users banded together to bring down at least six government agencies' websites to protest the plan.
"I have not ordered [the government] to go ahead with this. I merely told them to study it, but there has been some misinterpretation," junta chairman Gen. Prayuth Chan-ocha said today. "Right now, this matter is only under study. There's nothing."
Several other officials including the top telecommunications minister have come forward to echo the assertion the project hasn't left the concept stage.
"Let me insist this is just an idea," Minister of Information and Communication Technology Uttama Savanayana said yesterday. "Since I took up the post a month ago, there has been no policy plan, no conclusion of what it will look like, and I have not yet proposed anything for the prime minister to deliberate."
Junta chairman Prayuth Chan-ocha raised the project as a priority in June, according to minutes of his cabinet meetings. In subsequent meetings in July and August, the cabinet stepped up orders for officials to urgently expedite the project.
Panadda Diskul of the Prime Minister's Office wrote on online "the prime minister merely told us to study the facts" of implementing such a system after it was proposed to the cabinet.
Panadda also took a swipe at those who participated in Wednesday's crude denial-of-service attack, accusing them of spreading false information and rumors about the project.
"This is fabricated news created by those who are selfish," he wrote.
Government spokesman Sansern Kaewkamnerd expressed the same, saying the project was only "noted" in cabinet minutes to acknowledge its study.
"I insist that all of these are just studies," he said. "It is not a project yet yet. It is not happening. Will it happen or not, I cannot answer."
Resolved to Action
However at least four published Cabinet Resolutions indicate that Prime Minister Prayuth and his military regime have not only finished discussing and studying the feasibility of a single gateway, but had made it an urgent matter for implementation.
On 30 June, Gen. Prayuth was quoted in the cabinet minutes urging administrators to solve the problem of youth addiction to online games and "access to inappropriate media" by "proceeding to implement a single gateway to be used as a device to control inappropriate websites and flow of news and information from overseas through the internet system."
On 21 July, Prayuth instructed the telecommunications ministry and "related agencies to urgently speed up the implementation of a single gateway to be used as a device to control inappropriate websites and flow of news and information from overseas through the internet system in accordance with 30 June, 2015, Cabinet Resolution."
On 4 Aug., the ministry and other related agencies were again instructed to "report about development in implementation of a single gateway."
Three weeks later on 25 Aug., the cabinet – apparently still waiting for a response – gave a September deadline for the MICT to report back and once again ordered it to "speed up its work on the issue."
The topic doesn't appear to have been raised again at subsequent cabinet meetings.
Under Thai law, decisions entered into Cabinet Resolutions are legally binding.
The Thai military junta introduced the idea of the single gateway soon after it seized power from an elected government in May 2014 once it became clear that foreign multinational corporations such as Facebook, Google and Naver Corp. – makers of the Line chat app – would not cooperate with their requests to access user data.
It's the second time in recent memory the junta has backtracked on an ambitious policy in the face of broad opposition. A vaguely worded national ban on alcohol sales in certain areas was shelved for six months of "study" in August after it was roundly criticized as ill-conceived. The law was left on the books however for officials to enforce arbitrarily.
Government officials insist that channeling all internet traffic into a single point of control would allow law enforcement officers to easily track down individuals who commit online crimes and post messages deemed harmful to national security.
But civil rights activists warn it would eliminate privacy and freedom of expression, as well as hurt business by creating an insecure system unappealing to commercial interests as Thailand flaunts.
An online petition opposing the single gateway has received more than 142,000 signatures since it was created just over a week ago.
Related stories:
Cyber Activists Bring Down Govt Sites to Protest 'Single Gateway'
Single Gateway for Internet Still Under Study, Minister Says