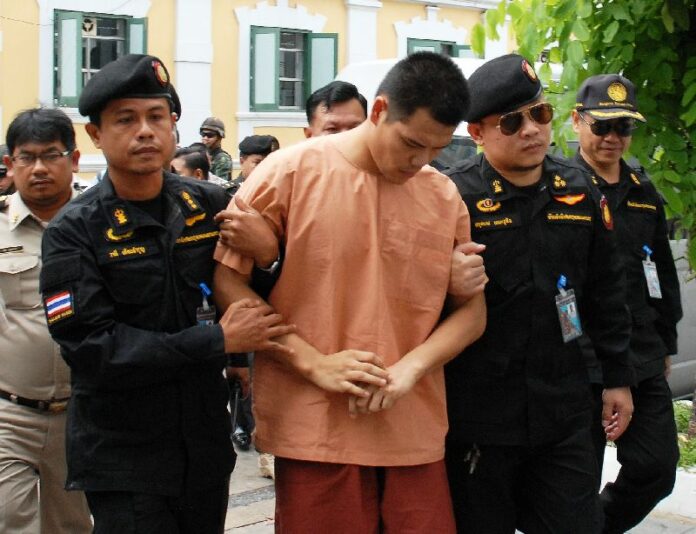 BANGKOK — The martial court has issued arrest warrants for two ex-police officers and a former aide to the previous army chief, charging them with lese majeste (insulting the monarchy).
The warrants were the latest development in what has developed into an ongoing purge of high-ranked officials under the accusation they sought monetary gain by falsely claiming or abusing ties to the Royal Family.
The three suspects were identified as army Maj. Gen. Suchart Prommai, police Col. Pairoj Rojanakachorn and police Lt. Col. Thammawat Hiranyalekha, according to details of the arrest warrants made public today.
The suspects' whereabouts were unclear, as was whether they had been arrested yet.
Suchart served as a senior adviser to the Royal Thai Army and personal aide to its former chief, Gen. Udomdej Sitabutr, who retired from the post in October. Pairoj and Thammawat are former officers from the Crime Suppression Division.
All three were charged with violating Section 112 of the penal code, which forbids any remark or action that defames the Royal Family. The charge carries a maximum penalty of 15 years in jail per offense.
The three warrants came from a six-week old investigation into what police described as a group of individuals capitalizing on their ties to the monarchy, according to deputy national police chief Sriwarah Rangsipramnakul.
The crackdown was made public Oct. 18, and four people have been arrested in connection with the alleged crime so far, two of whom soon died while in military custody.
Gen. Sriwarah said ample evidence – not any directed campaign – backed the charges against Suchart, Pairoj and Thammawat.
"I am confident in the evidence, whether it is documentary evidence or witness testimony, especially the forensic evidence," Sriwarah said, saying police did not target the trio because someone else implicated them. 
He also vowed to pursue the investigation impartially, without favor or bias based on the suspects' positions in the bureaucracy.
"In this case, although the suspects are police and military officers, no one orders us to put the brakes on the case, no one is helping them," Sriwarah said. "They only order us to investigate the case in accordance with the law."
Four people have been arrested since the police crackdown on the alleged "royal impostors" clique began in October: palace aide and famous astrologer Suriyan Sujaritpalawong, his secretary Jirawong Watanathewasilp, policeman Prakrom Warunprapha and his partner Sukkho Tamseri. Suriyan, Jirawong and Prakrom were charged with lese majeste, while Sukkho faces firearms-related charges. 
Of the three accused of lese majeste, only Jirawong remains alive. Prakrom and Suriyan died in custody at a military prison on Oct. 24 and Nov. 7, respectively.
An army colonel, Kachachat Boondee, is believed to have fled the country before he could be formally charged with lese majeste. 
Like other lese majeste cases and issues involving the monarchy, the ongoing investigation into the three suspects has been conducted in secret. Media agencies have been told by authorities not to report anything other than official statements and authorized disclosures.
Related news:
Police Announce Investigation of 'Royal Imposters'
Famous Astrologer Among Accused 'Royal Imposters'
Further Autopsy of Lese Majeste Inmate Unnecessary, Minister Says
Famous Astrologer 'Mor Yong' Dies in Custody
To reach us about this article or another matter, please contact us by e-mail at: [email protected].
Follow Khaosod English on
and 
Twitter
for news, politics and more from Thailand.