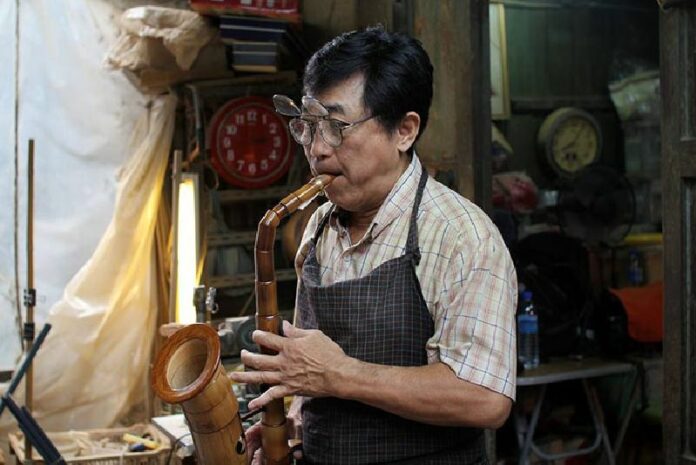 By Lisnaree Vichitsorasatra
Staff Reporter
Hear a sonic spectrum from upcountry to urban this Sunday at Museum Siam, where the place is brewing on the subject of sound and music.
Ethnomusicologist Anant Narkkong will wield traditional instruments while Michael Edwards will deploy a sax and computer at a live companion performance to the museum's As((earn))n exhibition of Southeast Asian soundscapes.
The live performance will be mirrored by an outdoor screening of "Y/our Music," a visually arresting tour of Thailand's socio-political history "from rice field to leftfield."
Eight months after the film premiered at the South by Southwest Festival in Austin, Texas, the award-winning film by Waraluck Hiranswettawat Every and David Reeve remains little-shown in Thailand, apart from a run at Lido earlier this year. Kick off your shoes and enjoy the film under the night sky. It will be preceded by a discussion with Waraluck.
"It's a dramatic film that sees each character as a person, not a diva who gets on the stage and answers a bunch of questions by the interviewer," Waraluck said.
Ranging from glamor-free rustic locales to post-modern hipster enclaves in the capital, the film features music and musicians including Mor Lam queen Chaweewan Damnern, and the Bangkok creatives behind "Happy Band."
Waraluck said urbanites tend to romanticize Thai country music, which during the past decade has gone from shunned to celebrated in the capital city.
"People see Isaan music as being pure, but it is a career in which Isaan people aspire to get more money rather than work in agriculture."
The afternoon live performance will also feature "digital interactions" by Kittiphan Janbuala and Jean-David Caillouet will field "visuals, sonic environments and found objects."
"It's a mix of modern technology, local instruments and ASEAN instruments," Waraluck said of the event.
The event is totally free. The audio-visual performance runs from 3pm to 5pm. Waraluck and Anant will start talking about 5:30 until it gets sufficiently dark for the movie to screen. It runs 82 minutes and includes English subtitles. Seats for the live performance are limited. Reserve by calling 02-225-2777, Ext 409. Check out more information at the Facebook event page.