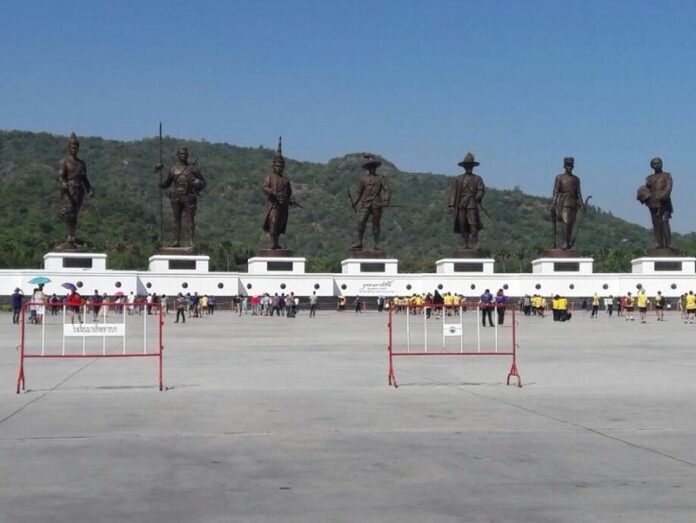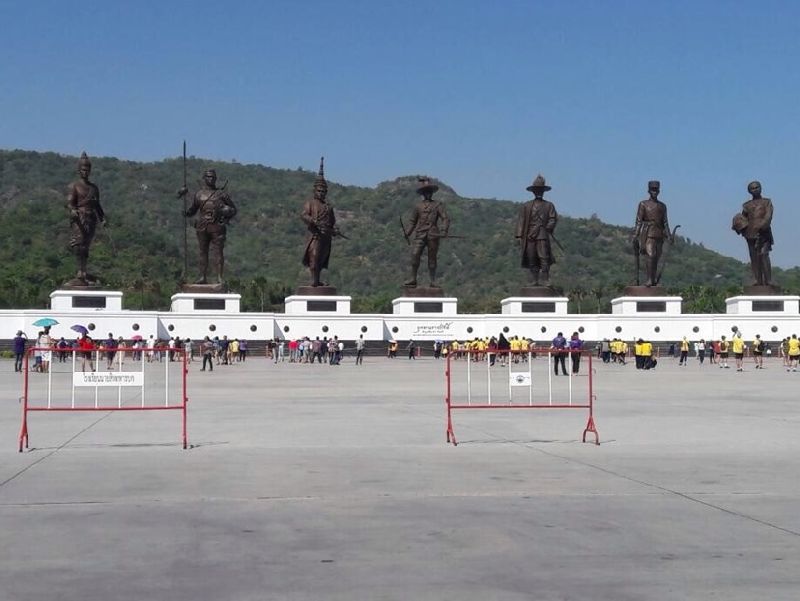 By Teeranai Charuvastra
Staff Reporter
BANGKOK — Soldiers today arrested a Facebook user for sharing an infographic about alleged corruption in the army-built royal monument complex.
Sriwarah Rangsipramnakul, deputy police chief, said the suspect – identified in media reports as a 27-year-old factory worker in Samut Prakan – is being interrogated in military custody and will be charged with inciting unrest in the country for sharing the graphic – the latest crackdown on those who publicly question transparency in the billion-baht Rajabhaki Park project.
"As far as I know, the suspect is an ordinary person, but I haven't seen the evidence yet. The military is inspecting the issue," Sriwarah said. "I don't know the intention of the perpetrator. We have to see whether it was done out of recklessness or political ideology."
Prachatai news identified the man as Thanakorn Siripaiboon and said he was arrested Tuesday and is now being held at the 11th Infantry Circle base in Bangkok, where the military has created a special prison.
The infographic was created first and posted Monday by the New Democracy Movement, a pro-democracy group opposed to the ruling junta that came to power last May. It was removed Tuesday night after junta chairman Prayuth Chan-ocha lashed out at the chart during a news conference. Some supporters of the movement also expressed concern about the accuracy and fairness of some of its details.
Thanakorn's family was not allowed to visit him at the detention facility, his mother told Prachatai.
Sriwarah, the deputy police chief, said Thanakorn will be charged with inciting unrest in the country and violating the Computer Crimes Act. The latter is a sweeping law that forbids publishing information on the internet deemed false or a threat to national security.
The arrest reportedly came a day after military and police stopped a group of activists, including members of the New Democracy Movement, from touring Rajabhakti Park in Prachuap Khiri Khan. The activists said they were hoping to visit the site to draw attention to the reports of corruption during the park's construction.
Leaders of the military regime have warned the public and media to steer clear of the topic.
"Don't ask too much about Rajabhakti," deputy junta chairman Prawit Wongsuwan told reporters today. "Ask something else. There's no point asking about this."
He went on, "Please stop mentioning this already. It damages confidence a lot. You're Thais, why do this? The government is working for the country. Therefore, the media must help us out."
Related news:
Former Army Chief Explains Royal Park Project Graft
Govt Not Responsible for Rajabhakti Park Graft, Minister Says
Army Colonel Accused of Insulting Monarchy as 'Royal Impostor'
To reach us about this article or another matter, please contact us by e-mail at: [email protected].
Follow Khaosod English on
and
Twitter
for news, politics and more from Thailand.