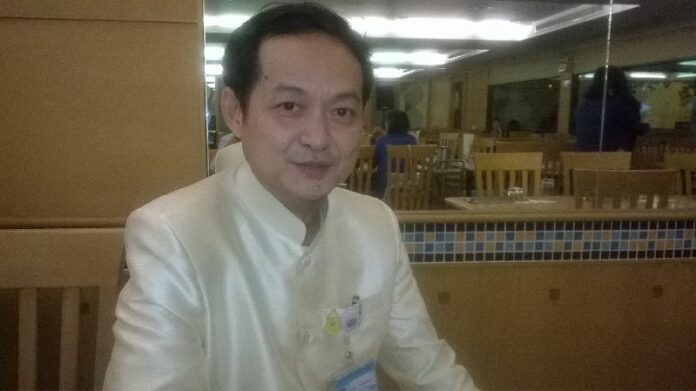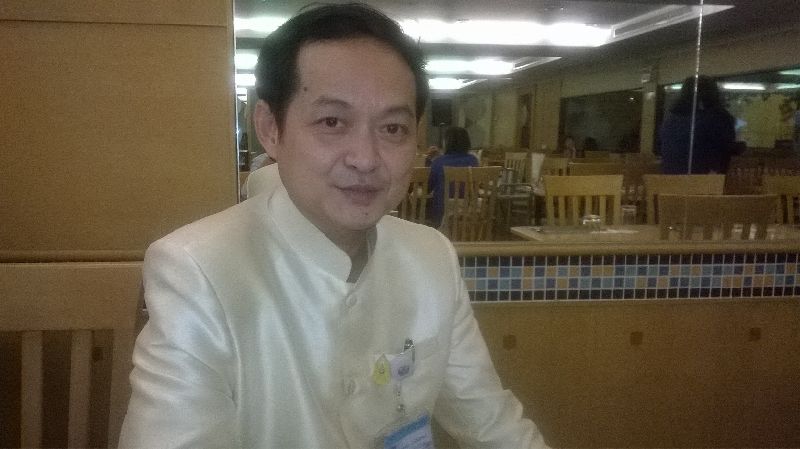 By Pravit Rojanaphruk
Senior Staff Writer
BANGKOK — Being both a drafter and mouthpiece on the body tasked with writing Thailand's next constitution is a dream job for Amorn Wanichwiwatana, something he says is difficult not to admit.
Questions of legitimacy and even decency over the fact that the ruling junta sponsors the charter drafting process and hand-picked everyone involved – Amorn included – hardly bother him, or if they do, the Oxford-educated sociologist tries his best to make it unnoticeable.
"We are truly independent… But if you refuse to believe it, then that can't be changed," he said. "We are ready to listen to criticism, but please give us criticism that comes with suggestions or recommendations."
Though Amorn and I first met 14 years ago as postgraduate students at the same university in England, we are aware that we see Thailand under the military junta differently.
Son of a merchant from Chachoengsao province east of Bangkok, 50-year-old Amorn has taught in Chulalongkorn University's Faculty of Political Science for two decades. He's not an academic rock star although he spent seven years at Oxford from 1998 to 2005, reading his doctorate in sociology.
He took three years longer than expected at Oxford and had to fund them because Chulalongkorn University would not pay for an academic overstay.
In his bespoke, cream-colored silk Prarachathan collar-neck shirt (he has more than seven in different colors and asked the price not be mentioned), Amorn now looks more like a well-paid technocrat than a modestly-paid college lecturer. It's his newest job as charter drafter and co-speaker of the drafting committee that he finds very challenging and satisfying.
"I could co-draft the supreme law," he said. "I'm very honored. It's a supreme honor."
About a year before he was appointed to the Constitution Drafting Committee, Amorn and I met by chance when he was a member of the now-defunct, junta-appointed National Reform Council, and I can still recall his reply on the issue of the coup makers' legitimacy. Amorn said it was fait accompli, and there's no point thinking about the matter, adding that bureaucrats were already taking orders from the junta, as if they were just another legitimate regime.
Now his task is to sell the new charter, still in the drafting process, to the public in the hope it will be approved through a national referendum within a year or so from now.
Amorn sounds like a salesman who's very upbeat about his product.
"We can't see any reason why the draft would not be approved," he said, referring to the referendum, which would add legitimacy, or the veneer of legitimacy, to the whole process, dependent on whom you ask.
Not even a recent remark by junta-leader-cum-Prime-Minister General Prayuth Chan-ocha that doubts about the charter's chances in a referendum make him unsure there will be elections in 2017 can dampen Amorn's salesmanship.
"I think it was more like a 'lamentation,'" Amorn said. "I don't think he takes it for real."
"We're confident that [the draft charter] will provide mechanisms that prevent [future political] crisis, and that situations in the past would not recur."
Was Amorn referring to another possible military coup in the future that would nullify yet another constitution?
He said yes.
I reminded Amorn that there are many Thais out there who believe the draft charter, even if approved through a referendum to become Thailand's 20th "permanent constitution" would not be very "permanent" since there could be more coups in the future. Amorn flatly refused to entertain such an ominous prospect.
"I will not dispute with all groups of people, and if I am invited [to such a discussion] I won't accept it," he said, as he began chewing his shrimp fried rice at a restaurant near the parliament, where he works.
His focus is in the "now." he said, stressing that despite doubts about the drafting committee's independence (all members were selected by the junta), he will continue to insist that the committee is truly independent and participatory, despite political gatherings of five or more people being illegal for over a year and looking to stay that way.
Specific issues, such as whether room should be left for a non-elected MP to become prime minister, or whether there should be a body that could override an elected government in times of crisis are controversial, but Amorn said we all should at least wait until the first draft is out at the end of January before making noise, as nothing is written in stone at the moment.
Amorn said there's one thing he could do better, which is being more efficient in communicating about the whole process to the public. He said some Thais are not even aware a charter is being drafted.
And what about his lecturing job at Chulalongkorn, where there are academics who support as well as those who oppose the junta?
"I can talk with all sides. I have neither enemies nor friends. They're all colleagues. I surely don't forbid people to have a differing [political] opinion."
What about his future? Is Amorn keen to become a politician one day or remain an unelected technocrat well into his old age?
The quick-talking Amorn was coy and noncommittal, with a politically "professional" response.
"I can serve in whatever capacity, as long as I can serve the country and society," he said.
Related stories:
Critics See Insecurity in Junta's Charter Wish List
Rebooting Charter Process Enables Longest Military Rule Since 1969