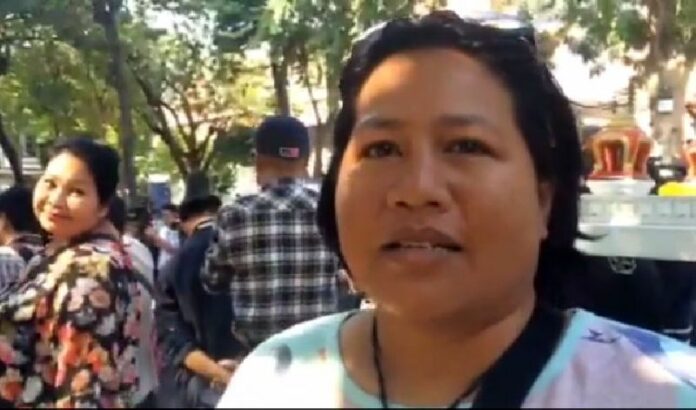 By Pravit Rojanaphruk
Senior Staff Writer
BANGKOK — Being the mother of a prominent student activist is tough. You get calls from the junta using carrot and stick to ask about his whereabouts, you get summoned, and when those tactics don't work, you're accused of being paid off by some politician or another.
This is what 39-year-old Patnaree Arunyapun has faced since her son, 23-year-old Sirawith Seritiwat, announced Dec. 4 he would lead a group to visit a scandal-plagued park built by the army. And despite her insistence she is apolitical and too busy making ends meet, the sudden pressure has pushed her to defend her son, criticize the junta and becoming a political player and public figure in her own right.
The Dec. 7 rail trip to Rajabhakti Park in Hua Hin, Prachuap Khiri Khan didn't get very far after the military disconnected the activists' car from the locomotive. The park was ordered closed and 36 people were arrested and briefly detained, including Sirawith. But the pressure and intimidation began raining down on his mother three days earlier, while he was in hiding, with a visit by several soldiers to her home to ask where Sirawith was at the time.
"It was slightly intimidating," Patnaree, a widow with three children, said of her initial reaction.
They come and took pictures of her place, including family photos held in a frame. The soldiers asked her to talk her son out of any plan to publicly scrutinise the park, where seven giant statues of past kings have been erected.
"I have never been involved with politics," said Patnaree, a working-class housemaid who said she takes any odd jobs for money, including cutting mango tree branches. "My concern for him was as a mother."
Soldiers dispatched by the military junta first tried to persuade her by offering to fix the leaking roof of her single-story, dilapidated house she rents in the capital's Minburi district and promising scholarships for her children.
It didn't work. Patnaree said she respected her son's decision and political stance, and told them it would be impossible to talk him out of political activism anyhow. Things became more tense when the junta representatives told her they could not guarantee what might happen to her son and the home improvement and scholarship offers were off the table after she started writing on Facebook to criticize the perceived threats.
"Soldiers came to visit our house late at night," she wrote Dec. 5. "This is not comforting and makes me stressed. Soldiers came to take photo of my ID card, the framed family photo too. Can these really help them to find my son? Oops!!! Puzzled."

Soldiers detain activist Sirawith Seritiwat on Dec. 7 in Ratchaburi province

In another message the same day, she questioned their tactics.
"Soldiers came to my house and asked why my son is so stubborn? If something happens, don't blame us, they said. Is this a threat?" she wrote.
In response, she said soldiers asked her why she had become "provocative" and told her to post only truthful information – charges Patnaree rejects.
Unwanted Fame
In a matter of days, Patnaree went from private citizen to public symbole. After being summoned Dec. 6 by the junta, seen near her son Dec. 8 at an impromptu Thammasat University press conference, and making many friends and enemies on Facebook, Patnaree said she has become stressed out by the vitriol from some who criticize her on social media.
Some comments are simply too lewd for her, Patnaree said, citing one accusing her of being both Sirawith's mother and lover. A few others accuse her of being anti-monarchy.
"It's just too much," said Patnaree, who is plump and resembles her now-famous son.
Differences remain, however. While she admits that her activist son, now a senior political science student at Thammasat University, has been interested in politics and democracy since he was in high school, Patnaree said politics could not be more removed from her daily struggle to provide for her family, especially after the premature death of her husband, a bus driver, four years ago.
"Let me say frankly: I have no concern for politics," she said. "Whoever becomes prime minister, I'm still going to be poor. It's a waste of time that I would rather use to earn a living."
She said the past week however has taught her that she can't continue to be apolitical or indifferent, as her son was dragged further into the political limelight. She gets nasty inquiries from junta representatives, who want to know why she smiled in front of a news camera or appeared chummy with reporters, or worse, if she has taken money from politicians for what she is doing.
"This is hurtful," said Patnaree, who insisted she works hard to earn a very modest income to feed her children and to look after her ailing mother. They're facing imminent eviction from their home, as she said the owner of the house they're renting failed to pay his mortgage and has lost it to the bank. They essentially squatters until that time.
Although Patnaree was promised she would no longer be "frightened" after deciding to meet the junta with her son and a lawyer on Wednesday, she said her life has already changed.
By defending and protecting her son as he vowed to continue probing the scandal-hit Rajabhakti Park, which he vows to visit by year's end, she's been drawn into indirectly defending and protecting a rejuvenated pro-democracy movement.
"Life has changed so much," she said. "Many people recognize me now, but when I'm out on the streets I don't quite know if they look at me positively or negatively."
Related stories:
Video interview with Patnaree (Thai)
Military Closes Park 'For Maintenance,' Detains Dozens of Activists