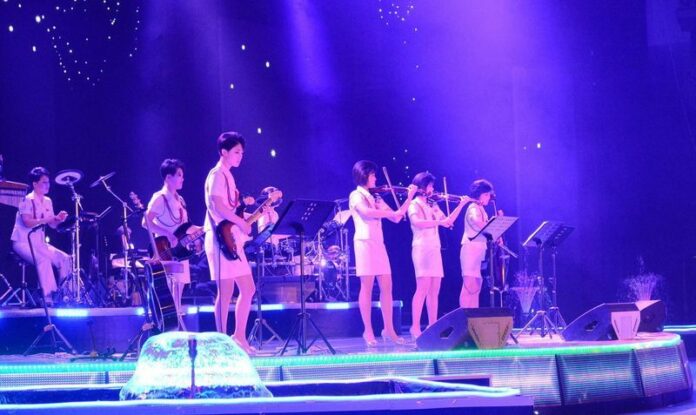 BEIJING — Moranbong Band, the all-female band set up by North Korean leader Kim Jong Un, cancelled a concert in Beijing and abruptly left the city on Saturday.
Concert hall officials said that the performance had been cancelled. "No reason was given," the officials said.
The all-girl group was to have performed for invited guests at the National Centre for the Performing Arts. It would have been the first-ever foreign performance for the band, and one of three concerts scheduled.
Additionally, a concert by a North Korean military chorus was cancelled. Both the band and chorus had arrived by train in Beijing on Thursday.

The Japanese news agency Kyodo said the band was spotted at the airport before its departure. They said the group was seen off at the airport by the North Korean ambassador to China, Ji Jae Rong. Neither Ji nor the band members responded to questions by reporters there.
The concert tour was seen as thaw in the frosty relations between Pyongyang and Beijing burdened by North Korea's nuclear weapons programme and a number of provocations by Kim.
In October, in a sign of improvement the number-five ranking functionary in Beijing, Politburo member Liu Yunshan, was the most important guest of honour at a military parade in Pyongyang marking the 70th anniversary of the end of World War II in Asia.
As a counter-gesture, the visit to Beijing by the Moranbong Band was meant to help "improve mutual understanding and friendship," Chinese Foreign Ministry spokeswoman Hua Chunying said.
Reasons for the sudden cancellation and abupt departure of the all-girl band remained a matter of intense speculation, for example that North Korea was offended by reports in the media about the band's leader, Hyon Song Wol, saying she had been a former girlfriend of Kim.
Story: DPA / Andreas Landwehr