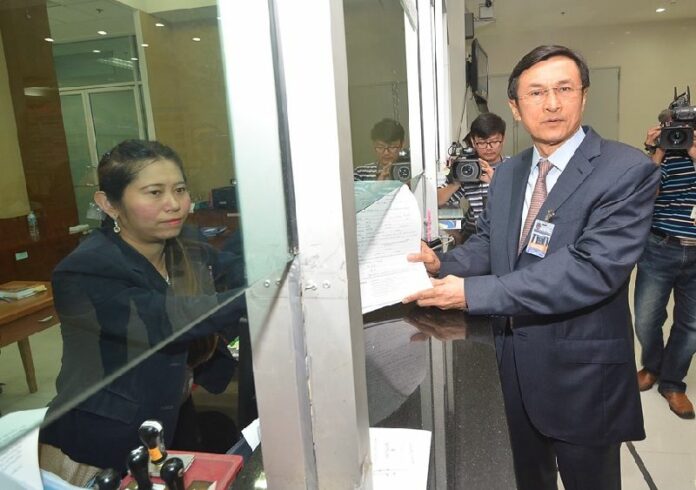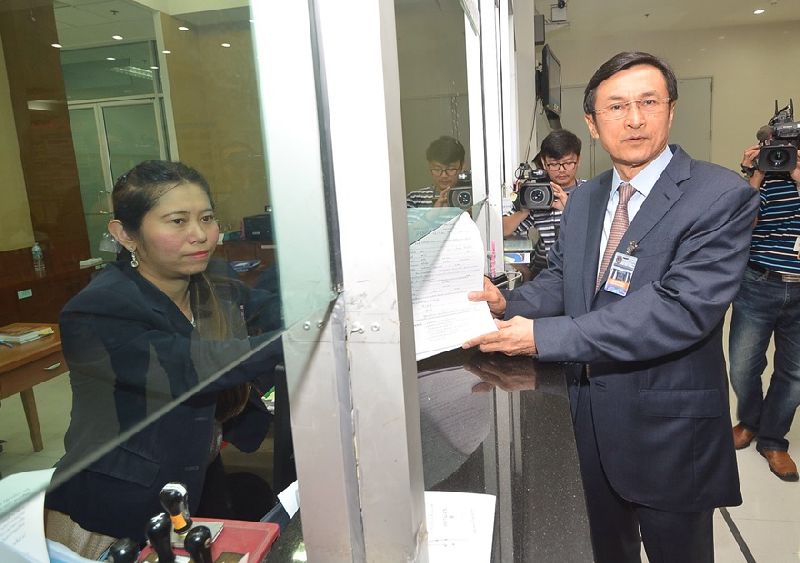 BANGKOK — A leading member of the Pheu Thai Party filed suit against the military government today for "falsely" revoking his passport in August.
Speaking at the Administrative Court this morning, Chaturon Chaisaeng accused authorities of stripping him of the right to travel abroad in retaliation for his criticism of the junta, which has said it must rein in critics for the sake of political stability.
He said officials told him in August his passport was revoked by the Ministry of Foreign Affairs' consular division because an arrest warrant had been issued against him, which justified revoking his travel document.
But no outstanding warrant existed at the time, Chaturon said. Although he was briefly wanted by the junta when he didn't respond to a summons order in May 2014, Chaturon was eventually brought to the military court, and the judge allowed him to travel, he told reporters today.
"The reason for revoking my passport is false," Chaturon said. "I'm not a person wanted by any warrant."
Chaturon named seven agencies, including the Ministry of Foreign Affairs and Royal Thai Police, as defendants in the suit he filed with the Administrative Court today, accusing them of unfair treatment. He also asked for the return of a valid passport in the suit.
'Discrimination'
Last September, junta chairman and Prime Minister Prayuth Chan-ocha suggested that Chaturon lost his passport because the politician kept lashing out at the regime.
"He did wrong things again and again. He did so many wrongs," Gen. Prayuth said. "The charges against him are numerous. He has been summoned dozens of times already. There are many other people like him."
Since staging the coup against the Pheu Thai-led government in May 2014, the junta has outlawed political activities, protests and any public challenges to its regime. Some dissidents who violated the ban have been sent to stand trial in military court, where they face up to a year in prison if convicted.
Government spokesman Weerachon Sukondhapatipak also said at the time that Chaturon had to face consequences for his negative attitude.
"This is not a normal situation. This government does not come from a normal situation. So, you have to see if you criticize it now, what kind of consequence will happen?" Weerachon said Sept. 3.
For Chaturon, Prayuth's remarks in September confirmed that the regime stripped him of his passport to punish him for his political expression.
"It shows that the revocation of my passport is a political issue, after I criticized the constitution draft as undemocratic, and after I expressed other political opinions that upset those in power," Chaturon said today. "This is discrimination. It's a deliberate, illegal violation of my rights, which causes me grave damages in all aspects."
He also said he might file additional lawsuits demanding financial compensation from the authorities for preventing him from overseas travels.
Related news:
Critic's Passport Revoked as Junta Reaffirms Ban on Criticism
Thai Govt Revokes Thaksin's Passports, Citing 'Damaging' Interview
To reach us about this article or another matter, please contact us by e-mail at: [email protected].
Follow Khaosod English on
and
Twitter
for news, politics and more from Thailand.