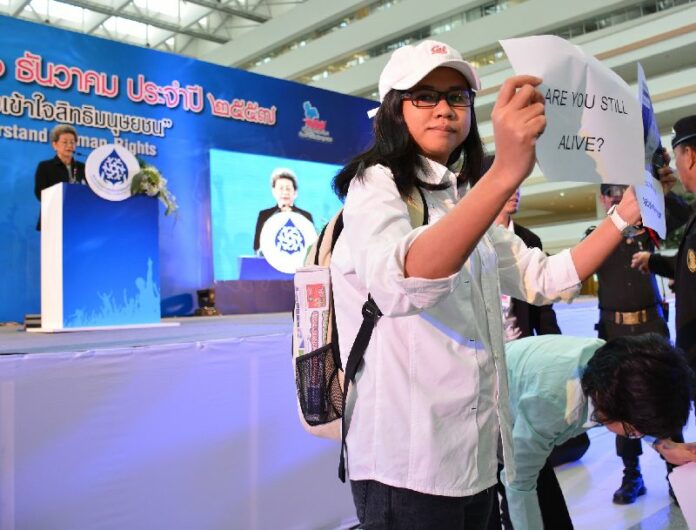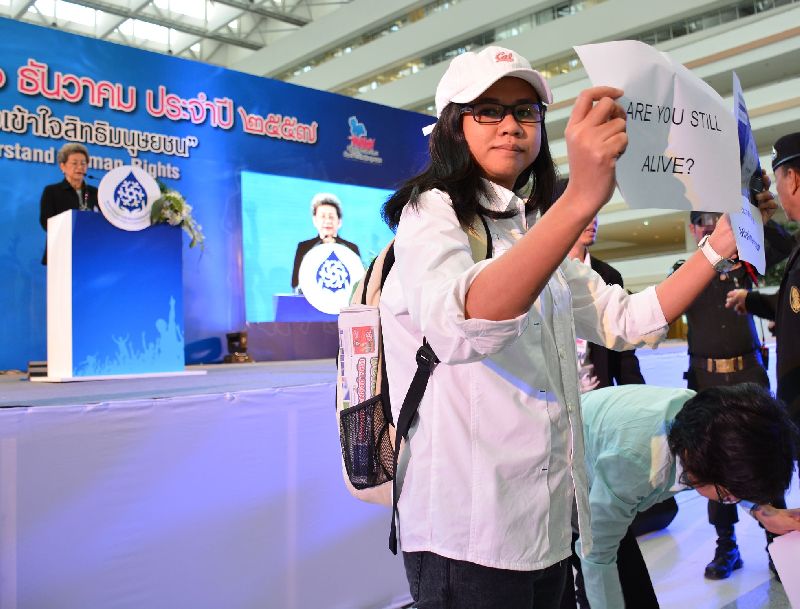 BANGKOK — The National Human Rights Commission of Thailand, or NHRC, has been downgraded from by its international governing organization, a decision one commissioner hopes will be overturned later this year.
Citing a failure to maintain independence and address human rights violations in a timely manner, the commission's international coordinating committee announced Thailand was downgraded from A-level status to "B" on Thursday, a year after it first issued a warning to the Thai rights agency.
Commissioner Angkhana Neelapaijit said she accepted the demotion but vowed to "step up" the agency's efforts and convince the international committee to restore her agency to the top rank.
Thai Human Rights Commission Slated For 'Downgrading'
"It's over," Angkhana said when asked whether she plans to appeal the decision. "But there will be the next meeting in October or November. We will perform our duty and prove that this current set of commissioners work in accordance with the Paris Principles and in defense of human rights."
Its lower status means it can not vote or take leadership roles on the international committee, where it can only participate as an observer.
Angkhana and other commissioners were appointed in December, replacing the previous membership which was widely criticized by rights activists in Thailand for their reluctance to challenge the military government which came to power in May 2014.
Thai Press Freedom Index Down After Coup
Angkhana said she was informed in November of the impending downgrade. According to Angkhana, the international committee accused the previous commission of "not doing enough work to defend human rights, and lacking impartiality."
For example, Angkhana said, some former members were criticized for supporting anti-government protests which precipitated the 2014 coup d'etat.
'We Did Our Best'
Reached for comment today about the verdict, former commissioner Niran Pitakwatchara defended his tenure.
"We did our best. At least I did my best," Niran said. "But there are problems with the structure, laws and society. The state still exercises its power inappropriately. The [commission] doesn't have any power to order them."
According to Niran, some of the international committee's demands were valid but unrealistic, such as the process for selecting members. The international committee wanted a more diverse selection committee, but the process was written into the Constitution, which the commission cannot amend, Niran said.
"We tried our best. There's nothing we didn't do, but there are some issues that we couldn't do, because they are beyond our capability," Niran told Khaosod English. "It requires a constitutional amendment. Even the new [current] set of Commissioners won't be able to do that."
The former commissioner also blamed the decision in part on the military government for making the human rights situation worse for Thailand.
Thai Net More 'Not Free' Due to Military Suppression: Freedom House
"It's the current situation in the country. They won't accept the principle of human rights," he said. "They won't accept that justice is above the law."
Since coming to power in May 2014, the junta has aggressively curtailed civil rights by imposing a ban on political activities, censoring the media and trying civilians in military courts, among other measures.
The junta, led by Gen. Prayuth Chan-ocha, has insisted its restrictions on human rights are necessary to restore peace and order.