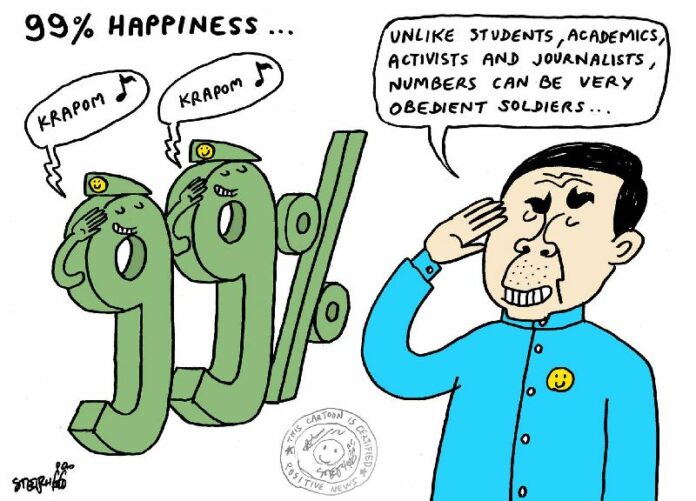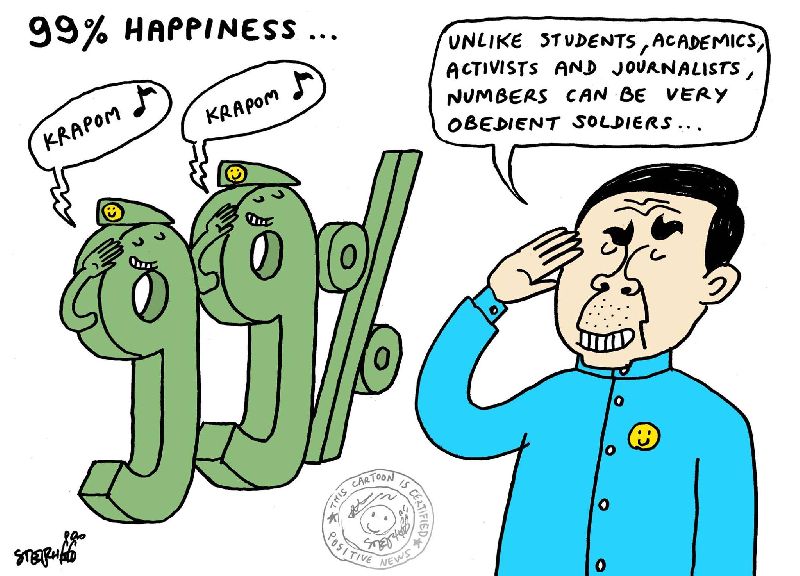 BANGKOK — A longtime political cartoonist known as "Stephff" did not have his visa extended in Thailand because he failed to follow regulations, the Ministry of Foreign Affairs said.
News that Stephane "Stephff" Peray, a cartoonist for several media agencies including The Nation, was denied a renewal of his press visa and work permit prompted speculation the military government was punishing Peray for his scathing cartoons, but a spokesman for the Ministry of Foreign Affairs said it was a bureaucratic call.
According to spokesman Sek Wannamethee, the cartoonist cited his workplace as The Kuwait Times and submitted only work samples from foreign media agencies in his application, whereas the ministry's regulations require they include samples from domestic news agencies.
---
Longtime Political Cartoonist 'Stephff' Loses Work Permit & Visa
---
"He only submitted a letter of certification from the Kuwait Times, without any work that was published in Thailand," Sek said Tuesday evening.
However it's not clear how foreign journalists would be expected to supply work from domestic media. According to instructions available in English on the Ministry of Foreign Affairs' website, foreign journalists wishing to work in Thailand need only supply three pieces of work from the past year.
For his part, Peray has since said he was contacted by the Ministry of Foreign Affairs and asked to submit a letter of support from The Nation instead of relying on his longstanding affiliation with The Kuwait Times, an employment status he's cited for more than a decade.
"So apparently it's not politically motivated – just [a] new regulation from the Foreign Ministry to make life harder on freelance journalists," Peray wrote.
The spokesman's statement did not explain what was different from previous years when Peray's status was renewed.
Sek said the ministry recommended Immigration Police grant Peray a three-month extension to his visa.
Peray, a French national, has been drawing cartoons that mock political figures across the political spectrum for years in Thailand. His work is regularly published by The Nation, though the newspapers' editor, Jintana Panyaarvudh, pointed out that Peray only works in a freelance capacity. The paper published a cartoon of his in its Wednesday edition.
A Stephff cartoon published on the Feb 3. edition of The Nation
Peray first broke the news on social media Tuesday that he was unable to extend his visa and work permit.
"I'll be honest here, it's not proven my work permit refusal is politically motivated – but I can question the timing of this after 16 years," Peray tweeted.
After the news spread, many commented to say Peray was another victim of the increasingly tough censorship measures imposed on the media by the military government since it came to power in the May 2014 coup.
Foreign Correspondent's Club of Thailand president Jonathan Head said Tuesday that five foreign journalists have been denied legal working status and press credentials since the coup.
Peray also wrote that the call from the Ministry of Foreign Affairs came after Head, a longtime BBC correspondent, contacted the ministry on his behalf.
Teeranai Charuvastra can be reached at [email protected] and @Teeranai_C.