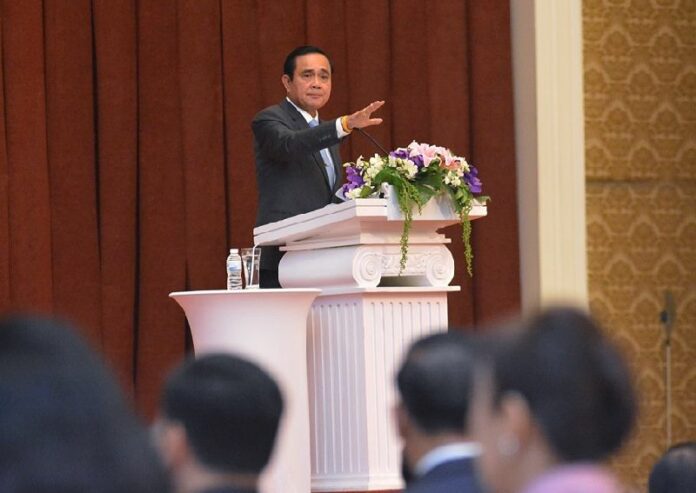 BANGKOK — Anyone who criticizes the new constitution drafted recently by a junta-appointed body risks being summoned for a "discussion" with the military junta, a spokesman warned yesterday.
The warning Tuesday from junta spokesman Piyapong Klinpan came at the same time military forces are being dispatched to local communities across the country to tout the new charter draft, which will go to a vote in July.
While discussion of the draft constitution is allowed, Col. Piyapong said anyone who attempts to "distort" the issue will be summoned for a talk.
"We will invite them for discussions to create understanding, for the sake of a reconciliatory atmosphere," Piyapong told reporters. "We will invite them for a talk on a personal basis. In the past, we have talked with many people, and they gave us good cooperation."
Although Piyapong did not name anyone at the news conference, several activist groups have criticized the junta-sponsored charter draft on social media, including members of the student-led New Democracy Movement and iLaw, an online legal rights watchdog.
Leaders of the Redshirt movement, which is allied to the elected government toppled by the junta in May 2014, have vowed to urge their supporters to vote it down.
Political campaigns and protests of any kind have been banned in Thailand since the current junta took power. To enforce the ban, the junta has summoned dissidents for "attitude adjustment," while activists who pose public challenges have been sent to stand trial in military court.
Another junta spokesman, Col. Winthai Suvaree, said Tuesday that discussions about the charter must strictly remain within "appropriate boundaries."
"I'd like to ask for cooperation from certain individuals and certain comments to adjust their style and method of presentation, into a constructive manner within appropriate boundaries and hypotheses," said Winthai who, like Piyapong, did not mention anyone by name.
Piyapong said physical harm was not part of the strategy.
"We will issue them a warning without using any violence," he said of those whose comments are deemed inappropriate.
He also urged critics of the charter to submit their opinions to the junta through approved channels, such as government complaint centers and soldiers in charge of the charter PR campaign in their respective provinces.
Winthai was referring to a recent decision by the junta to dispatch soldiers and young reservists on a nationwide campaign to publicize about the new constitution draft.
Related Stories:
Junta Orders Media to Discuss Charter 'Respectfully'
The Good, Bad and Ugly of Junta's 'Anti-Corruption' Constitution
Charter Gets Broadcast Boost, But Criticism Will Not be Televised
Teeranai Charuvastra can be reached at [email protected] and @Teeranai_C.