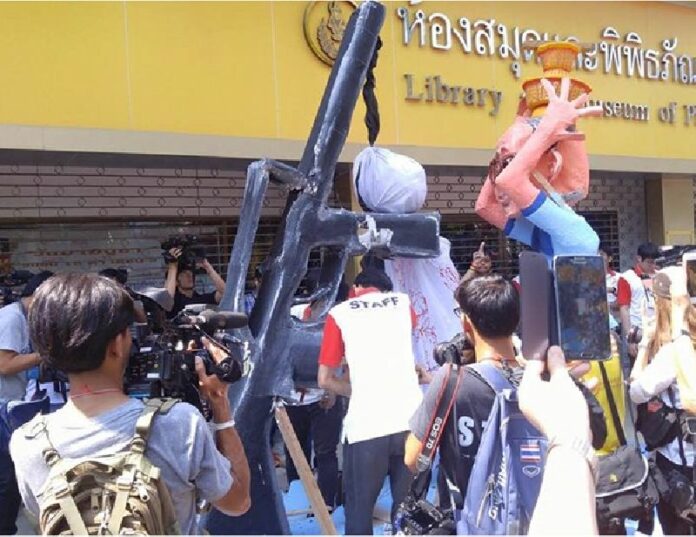 BANGKOK — Satire and at least student activist were removed by force Saturday from an annual student parade known for skewering politics.
Plainclothes military forces ordered students cut something that looked like a gun from a float about the new constitution at the National Stadium in Bangkok, where Thammasat and Chulalongkorn university students gathered for an annual football scrum, and later arrested a well-known activist leader.
After security forces were duped last year when students disguised their political messages, hundreds of non-uniformed officers gathered to monitor and censor the satirical parade famously used as an outlet for student political expression.
One float featuring the controversial draft constitution, criticism of which has been squelched by the junta, was ordered changed.
"Students are ordered to saw off the gun figure, otherwise the officers won't let it enter the field," wrote the independent satirical political group of Thammasat university on Facebook. "They said it's inappropriate because the gun looks violent."
It was reported that a banner about politics was also confiscated as it said "NCPO" in reference to the junta's formal name, the National Council for Peace and Order.
Student activist, Sirawith "Ja New" Seritiwat, a fourth-year political science student at Thammasat University and leader of the New Democracy Movement, was reportedly arrested by undercover officers disguised in Thammasat football jerseys Saturday afternoon after joining the parade.
Sirawith was being held at the Thonburi Railway Police Station. It is believed he was taken under the power of an arrest warrant issued after he tried to lead a group of activists to the scandal-tainted Rajabhakti Park in December.
"There is no reason for me to fear the arrest warrant," Sirawith said to reporters following his arrest Saturday. "Because for me, the orders of the NCPO are not the law."
In 2015 students frustrated military minders by disguising political messages under more innocent messages that were ripped off as they entered the playing field. Aghast officers rushed to close the gate but the images ended up widely disseminated in the media.
As much as its pre-game parade, the football game is also famous for students flashing provocative flash cards messages from the stands during the game.
A military officer said Friday the event would be shut down if any conduct or message was deemed to be defamatory, cause social disharmony or damage the nation's image.
"The committee of the event will inspect the satirical floats and cooperate with officers," said Maj. Gen. Chalermphol Srisawat on Friday. "If there is a problem, the show will be abruptly ordered to stop."
Though when the parade entered, an officer disguised in a Chulalongkorn football jersey suddenly interrupted and ripped away a banner carried by students.
Update: Story updated with information about arrest of student activist Sirawith Seritiwat.