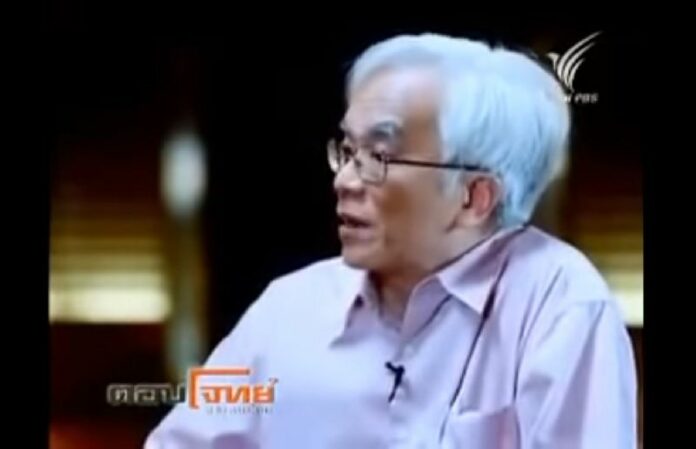 BANGKOK — Police have reopened a criminal investigation into a former history professor who criticized the monarchy in a interview broadcast nearly three years ago, a deputy police commander said Thursday.
Several people have filed complaints of royal defamation against Somsak Jeamteerasakul, who is now living in exile in France, since the interview was aired March 2013 on Thai PBS, but police previously had not taken any action, according to Police Gen. Sriwarah Rangsipramkul.
"I was just assigned to oversee the investigation into the complaints recently," said Sriwarah, who was appointed deputy chief of Royal Thai Police in November. "So, I still have not deliberated on the content of the show, whether it is considered illegal."
If so, he said, Somsak and other people involved in the TV program will be charged under Section 112 of the Thai Criminal Code, which outlaws any negative remark about the Royal Family, with a maximum penalty of 15 years in prison.
---
State TV Fined For Airing Monarchy Debate
---
"Apart from the people who appeared in the program, executives of Thai PBS TV station will also face prosecution," Sriwarah said.
On March 12, 2013, Somsak, then a history professor at Thammasat University, appeared on Thai PBS' talk show Tob Jote (Answering Questions) for its episode on the monarchy and constitution.
Throughout the interview, Somsak argued that the power and influence currently wielded by the Royal Family exceeds the limits imposed by the legal framework of the modern constitutional monarchy.
The interview, broadcast during prime time on a state-owned TV station, was a rare display of skepticism toward the monarchy, where discussion about Royal Family is not only taboo, but potentially illegal.
The segment prompted a protest by hardline royalists at Thai PBS, and station executives abruptly canceled the rest of the episodes. The show Tob Jote was also later taken off the air.
Somsak fled Thailand shortly after royalist army generals seized power in May 2014. He said he is now living in exile in France.
In February 2015, Thammasat University expelled Somsak on the grounds that he repeatedly failed to show up for work.
Related Stories:
Fugitive Academic Says Soldiers Harassed His Mom, 92
Thai Junta Chairman Vows to Hunt Down Critics of Monarchy
Thai Minister Asks French Diplomat to Extradite Lese Majeste Suspects
30 Years In Prison For Facebooker Who 'Insulted' Monarchy
Teeranai Charuvastra can be reached at [email protected] and @Teeranai_C.