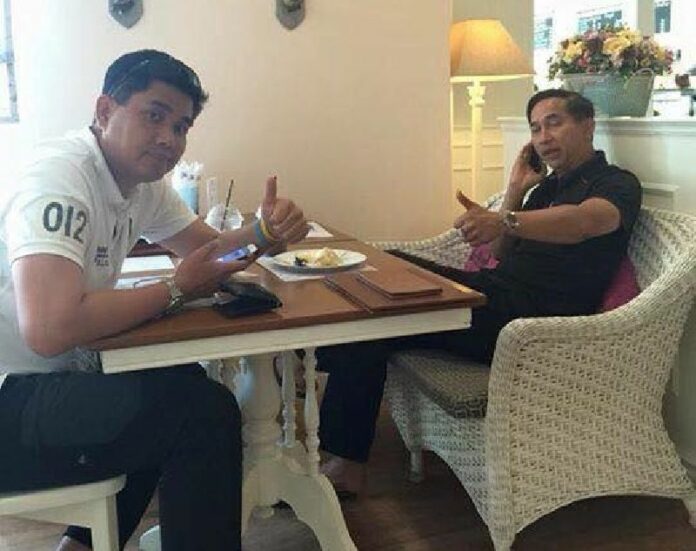 BANGKOK — Senior police commanders insisted a viral photo of two fugitive lese majeste suspects living "a life of luxury"' in New Zealand is false, though they decline to say where the pair is currently hiding.
Police on Thursday threatened legal action against those behind an anti-government Facebook page that spread the photo, which was the first indication of where the two fugitives, themselves army officers, might be since they apparently fled Thailand amid a high-profile purge in November.
The photo posted Thursday to I Must Have Received 100 Million Baht from Thaksin was said to show Maj. Gen. Suchart "Toe" Prommai and Col. Kachachat "Joe" Boondee dining at a hotel in New Zealand.
Suchart and Kachachat were charged with royal defamation in November for allegedly exploiting their ties to the monarchy for personal gain, but they fled the country before police could arrest them. They have not been publicly seen or heard from since.
---
Army Colonel Accused of Insulting Monarchy as 'Royal Impostor'
---
"Toe Suchart and Joe Kachachat are living a life of luxury in New Zealand," wrote the admin of the page, which styles itself as a Thai version of Wikileaks by occasionally posting what it claims to be secret government information.
Police commanders disputed the claim.
"The photo is not true. It's not accurate as claimed by the person who posted it," deputy police chief Sriwarah Rangsipramkul said Thursday. "Right now police are still tracking down the two suspects. I insist that we will find them and prosecute them. As for the country where the two are residing, I cannot disclose that."
His comment was echoed by the chief of the Central Investigation Bureau, Thitirat Nonghanpithak.
"It's an old photo, and it wasn't taken in New Zealand," Thirirat said Thursday.
Sriwarah said he will file charges against those responsible for the Facebook page for allegedly disseminating false information on the internet, an action outlawed by the Computer Crime Act.
"The person who published the photo is liable for prosecution under the Computer Crime Act, because the photo is untrue," Sriwarah said at a Thursday news conference. "Police will investigate who are the individuals who published the photo."
'Royal Impostors'
Kachachat and Suchart were identified by investigators as belonging to a clique of high-ranking army and police officers and businesspeople who exploited their ties to the Royal Family to enrich themselves.
Police announced the crackdown on the network of in October. Three people were arrested and held at a military prison where two of them died in custody, while persistent rumors suggest a third suspect died in custody earlier that month. In November, four more arrest warrants were issued, including those seeking Kachachat and Suchart, but no one else is known to have been arrested since.
---
Purge Continues as Cops, Army Chief Aide Charged
---
All suspects have been charged with violating Section 112 of the Thai Criminal Code, which prohibits any action or remark that insults the monarchy. The offense carries a maximum penalty of 15 years in jail.
Immigration records seen by Khaosod English showed Kachachat left Thailand for Myanmar on Oct. 31.
Responding to deputy police chief's rebuke, the Facebook page that published the purported photo of Kachachat and Suchart said it's confident of the accuracy of its information.
"The daughter of Toe or Maj. Gen. Suchart Prommai is a student in Nelson, New Zealand. It shouldn't be difficult to find," the page wrote. "If you want to find the father, just follow the trail of the daughter. The money that he pocketed from corruption, he used it for his daughter's studies, and he is using it to support his life there."
The page accused authorities of shielding the fugitive pair.
"It's not fair to just let him run away. We have to expose him. Why are they [the police] protecting him?" it said.
Related Stories:
Kingsguard Named 'Royal Impostor,' Stripped of Decorations
Seven More Warrants Issued For 'Royal Impostors' Network
Famous Astrologer 'Mor Yong' Dies in Custody
'Royal Imposters' Suspect Found Hanging in Prison, Officials Say
Teeranai Charuvastra can be reached at [email protected] and @Teeranai_C.