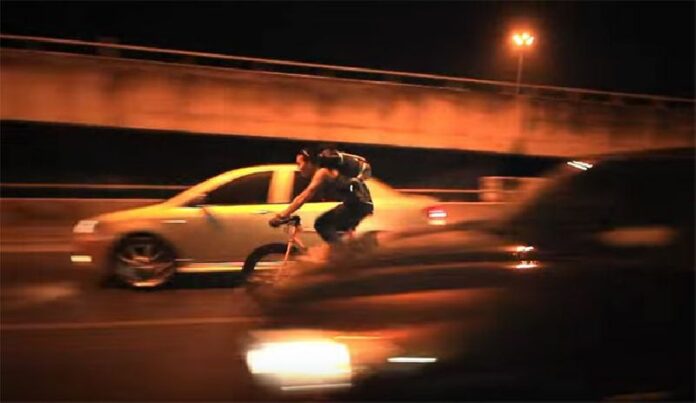 BANGKOK — As the high-end bicycle trend sweeps Thailand, more and more weekend warriors are pedaling the roads. The airport track has helped popularize cycling and national events such as Bike for Dad prove cycling has become mainstream.
On the flipside are "alleycat" races, no-holds-barred, informal races originally organized by bicycle messengers in the 1990s. The antithesis of mainstream cycling, alleycat races are part scavenger hunt – riders must snap pictures with their bike or other objects – along a route kept secret until the start of the race. It's completely unsanctioned and cyclists race through open traffic.
On Saturday, an alleycat race will be held in Bangkok backed by Bkkcrit, which puts on criterium races across Thailand.
"While criteriums are fast and competitive, the alleycat race, on the other hand, is totally open to anyone of any riding ability," Vissaves "Bon" Kumpanthong said. "You don't need expensive bike equipment, all you need to do is ride."
A number of underground alleycat races have been staged in Bangkok in recent years, and Bon is at the center of the scene. Two years ago he put on the first alleycat event. Racers departed from his Town in Town fixed-gear bicycle shop in northern Bangkok and pedaled through 20 kilometers of traffic-filled streets. Bon said the race was a success, which in these races means no one crashed.
"I can say no one has ever gotten hurt on an alleycat race." he said.
Although the riders were unhurt, they didn't escape unscathed. The race drew the ire of netizens on popular forum Pantip after a video was uploaded of a rider blowing through a red light and generally ignoring traffic rules while participating in an alleycat race.
Bon hopes Saturday's race brings all types of riders together to celebrate the rush of adrenaline experienced from cycling.
"I wanted to find a way to bring together the social spheres of cycling, no matter kind of riding they're into." Bon said.
Traditionally alleycat races are reserved for fixed-gear bicycles, but in Bon's race, any bike with two wheels is welcome."
Saturday's event, which will also include music and a market, begins at 6pm at Lucky Squid on Soi Lat Phrao 80. Registration is 100 baht.
Related Stories:
New Year Gift for Cyclists: Suvarnabhumi Bike Lane Returns Saturday
These 84 Bangkok Roads will Shut Down Friday for 'Bike for Dad'