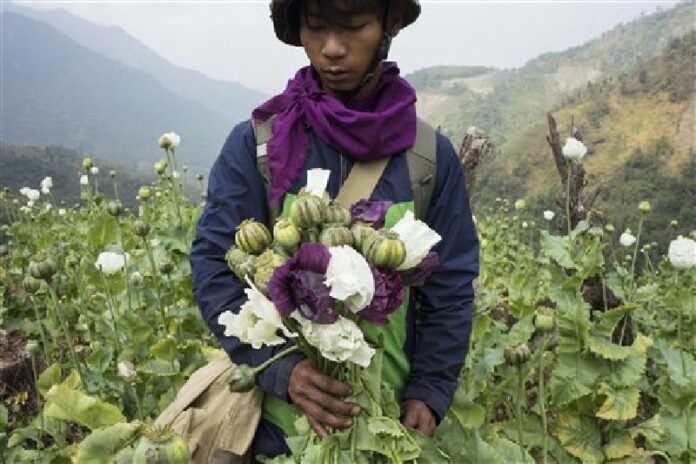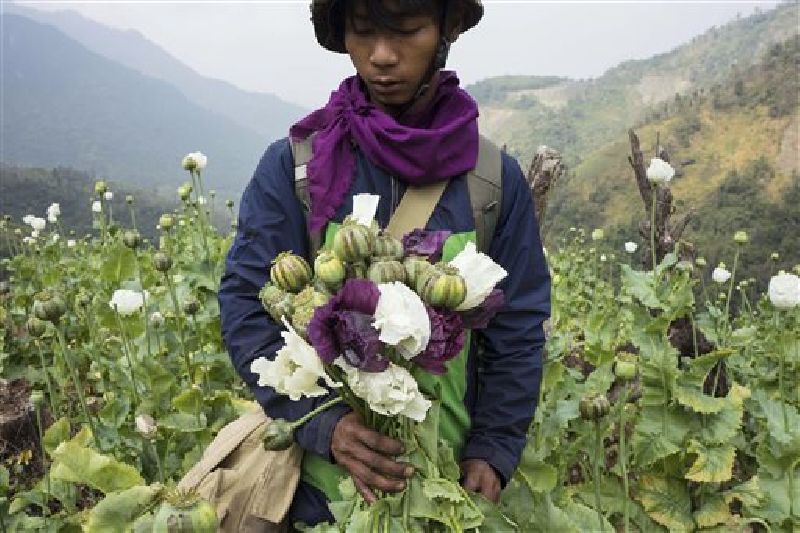 LUNG ZA, Myanmar — Opium is a scourge to many of Myanmar's poor communities ravaged by drug addiction, but to the farmers who grow it, it is a living.
The contradiction is highlighted, sometimes violently, by a grassroots movement in northern Kachin state that has mobilized thousands of men, women and youths to march through the countryside — many dressed in camouflage vests and helmets, as if for battle — on a mission to destroy fields of poppy flowers from which opium and its derivative, heroin, are made.
Fifteen years ago, drug enforcement authorities in Myanmar announced a plan to eliminate opium by 2014. They achieved a significant reduction, but the decline has stalled in recent years, leaving the country the second-biggest producer after Afghanistan, and forcing the drug-free target date to be pushed back to 2019.
With drug abuse on the rise, especially among young people, activists joined with the Kachin Baptist Convention, the state's most influential civil institution, to create a loose organization called Pat Jasan to stamp out the drug trade their area. Many Kachin, one of the largest ethnic minorities in Myanmar, are Christian and motivated by their faith to root out drugs.
In this Jan. 22, 2016, photo, a leader of Pat Jasan plans their opium eradication march in Wai Maw, northern Kachin State, Myanmar. Photo: Hkun Lat / Associated Press
One group of 1,300 marchers has been hiking through the hills for more than a week. Along the way, they try to convince poppy farmers to destroy their crops, or they fan out into the fields and slash away at the bulb-topped plants with machetes.
Poppy production has flourished in the region due to a power vacuum amid the decades-long conflict between government forces and the Kachin Independence Army, which is pressing for self-determination. In some cases, ethnic minority groups including the Kachin have financed their struggle through the drug trade. Amid the off-and-on fighting, neither side has clamped down on poppy-growing, a key source of income for many farmers who are not happy about Pat Jasan's crusade.
Violence has erupted along the way. On Thursday, 14 marchers were injured in an attack by unidentified assailants using automatic weapons and hand grenades while they were destroying poppy fields in Wai Maw township. Earlier, the government had stopped the group from proceeding because of the danger of armed farmers.
Last month, a 19-year-old was shot to death by a farmer, and three other Pat Jasan activists were injured by a land mine.
In this Jan. 23, 2016, photo, a member of Pat Jasan prays at Wai Maw village at the start of their poppy eradication march in northern Kachin State, Myanmar. Photo: Hkun Lat / Associated Press
The government has provided a modicum of protection by sending some soldiers or police as escorts, but they fled when the group was attacked on Thursday, said Lum Hkawng, the secretary of the group.
While the drug trade has ruined many lives, the United Nations says surveys show that many villagers depend on the crop to earn a living.
"Opium poppy is cultivated because it provides a means of subsistence in the face of poverty," Tun Nay Soe of the United Nations Office on Drugs and Crime office in Yangon said in a statement.
A march last month took activists to Hkam Ju village in Kam Pai Ti sub-township, where poppy farmers told them there was no need to destroy their crop, they would do it themselves — if they were given rice and other food in return. One of the Pat Jasan leaders, Tang Gun, said they didn't bring rice, but could send them food later if the farmers insisted. The campaign is funded by the Kachin Baptist Convention and donations from local residents.
Later, in Lung Za village, the Pat Jasan members proceeded to slash away at poppy fields.
"All we wanted is to stop poppy production and drug addiction among young people," said Tang Gun. "We are losing our society and this is why we are campaigning against poppy production."
Story: Hkun Lat / Associated Press