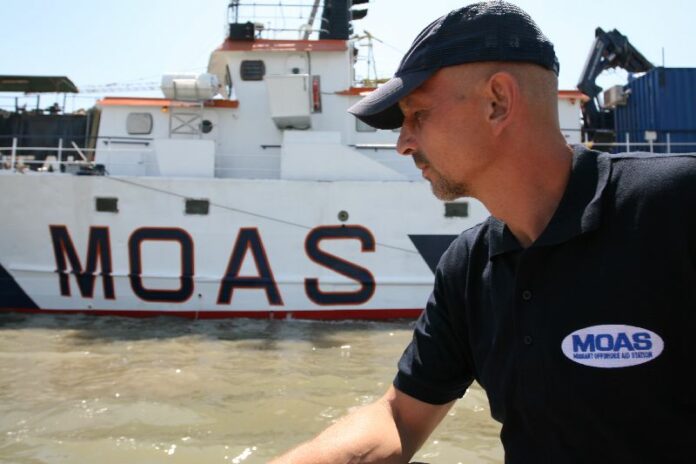 BANGKOK — Long-range recon drones will fly from what's billed as the world's only private search and rescue ship to scour the Andaman Sea for boat people beginning Thursday.
A Malta-based charity credited with rescuing more than 12,000 refugees in the Mediterranean has set course for the Andaman Sea, where it will spend at least four weeks offering aid to the seasonal tide of humans who set out in search of better lives but often wind up abandoned or worse at sea.
One challenge in the mission for the Migrant Offshore Aid Station, or MOAS, will be coordinating with the Royal Thai Navy, whose policy is to push migrant boats back out to sea. The project's director said Friday their contact so far has been "positive."
"I had discussions with Thai and Malaysian authorities. They were very positive discussions," said MOAS director, Martin Xuereb. "We open the channel of communication and that is a very, very important step."
Their ship, the Phoenix, was refitted in Thailand prior to charting a course to the Andaman Sea. The Phoenix should is expected to arrive Thursday and operate in the area for at least four weeks.
Founder Christopher Catrambone, an American businessman, said their goal is not to step on anyone's toes but to support local efforts for the same purpose of saving lives.
With its pair of long-distance drones, the Phoenix and its crew will be able to find and locate vessels that may be transporting migrants in the sea. The project's director said they will then coordinate with authorities on shore while providing medical service on board.
Since the sailing season started in September, the UNHCR estimates more than 1,000 Rohingya have fled Myanmar by sea to escape systematic abuse and discrimination perpetrated there. The president of the New York-based World Rohingya Organization believes 200,000 Rohingya may depart Rakhine state in 2016, according to The Straits Times.
The exodus of Rohingya, Bangladeshi and others reached a crisis point in 2015, with hundreds thought to have died as migrants made their way south toward Malaysia and Indonesia.
Right groups believe the number of Rohingya refugees in the Andaman has dropped considerably compared to the same period last year due to a crackdown on human smuggling in Thailand and Bangladesh.
In May 2015, authorities discovered slave camps and graves near the border with Malaysia, prompting an investigation that saw nearly 200 suspects identified, including several high-ranking officials implicated. It was later suspended, and the chief investigator fled the country citing death threats.
MOAS director Xuereb said Thai authorities will be kept aware of the ship's whereabouts at all times and notified of any migrants encountered.
The primary mission is to provide assistance. In events where an emergency requires rescuing refugees from the sea, Xuereb said deciding to allow any to disembark from the ship is not "something that happens in two minutes." Though, he said, Thailand has a legal responsibility as a member of the International Organization for Migration.
The Phoenix is supported on board by Malta-based NGO Migrant Report and Fortify Rights, a human rights advocacy group in Southeast Asia.
Catrambone has kept MOAS afloat with millions of dollars of his own money.
Related stories:
Navy, Army Officers Charged with Human Trafficking
Death Camps: Police Arrest 12, Seek 56 Others in Trafficking Probe
Thai Navy Denies Threatening Rohingya Boat With Guns
Thai Govt: Ship of Abandoned Myanmar Migrants Will Not Land in Thailand
Four Arrested Over Rohingya Mass Grave at Thai-Malay Border