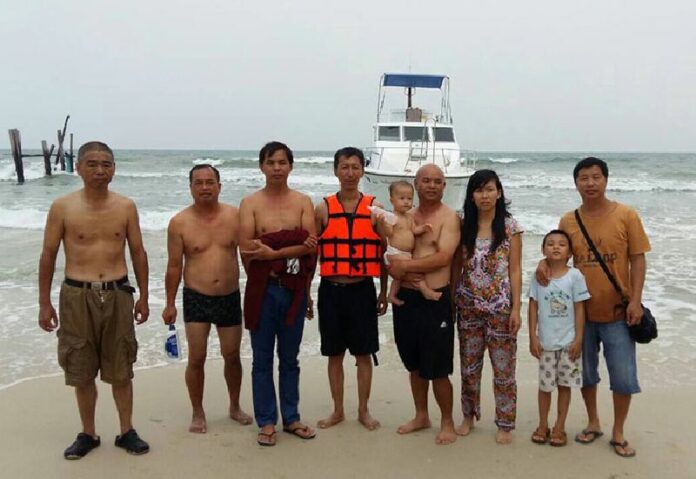 By Todd Ruiz and Teeranai Charuvastra
CHUMPON — Nine Chinese refugees who tried to leave Thailand by sea were forced to return to shore by stormy weather, and now three are being held on immigration charges.
Two members of a spiritual sect persecuted by Beijing, five activists and two children were among the group which set out from Pattaya in hope of reaching New Zealand when high waves late Tuesday night disabled their yacht, according to the wife of one.
"They were already on the open sea but still near Thailand," said 35-year-old Lisa Zhang, who recounted their story Thursday from Bangkok. "Strong winds, waves were 3 or 4 meters high, so the boat was very dangerous … and grounded near the [shore]. The water was getting into the boat, so they swam."
Read: Chinese Journalist Who Defected is Missing From Thailand
Once upon shore, the nine Chinese were taken by police to a hotel. On Wednesday they were taken back to the shore to take photos with the boat and get their belongings, all while being paraded before the press.
Somphorn Asi-uko, a local official of Chumphon province's Pathio District in, said four of the nine people didn't have passports with them, but all had certificates verifying their status as asylum seekers issued by the UNHCR.
Zhang said she and her husband, 43-year-old Song Zhiyu of Hepai province, are members of China's banned Falun Gong movement and had been living in Thailand for some time while seeking formal refugee status and eventual resettlement.
While Thai authorities in the past had mostly left Falun Gong in Thailand alone, she said they have been raiding homes and harassing them during the past year.
Before leaving by boat Monday, Song and other asylum seekers feared being deported back to China as Bangkok grows increasingly close to Beijing.
Lisa said remaining in Thailand was growing too difficult, so her husband chipped in about USD$6,000 to cover the expenses of the trip.
"We have no hope, we can't work here, we're not safe here," she said. "It's too difficult for us."
She didn't go due to the expense – and her fear.
"I'm afraid something will happen, afraid I will die," Lisa said. "Afraid they will die."
Somphorn said rescue workers found the yacht, the MW Marine, beached with hull damage caused by a rock off Thungsang Beach in Pathio district. Rescue workers and police officers inspected the scene and found it was captained by Li Xiaolong, his wife and two children. No one was injured.
Zhang said her husband Song, Li and Li's wife are being held on immigration violations. She said immigration police took Li's infant baby away, while the other four members of the group who had valid visas and remained free grabbed the 7-year-old child away from the authorities.
Asylum seekers typically live off the grid in Bangkok as Thailand does not recognize their legal status and sometimes prosecutes them for entering the country illegally.
In 2015, Bangkok forcibly returned more than 100 Uighur refugees discovered transiting in the south of Thailand. They were flown back to China in blindfolds and described as "terrorists" in Chinese media.
A number of Chinese dissidents have vanished while in Thailand. Li Xin, a democracy activist and journalist, vanished in January and hasn't been seen since. Gui Minhai, a bookseller from Hong Kong, disappeared from Pattaya in October. He eventually showed up in China and speculation ran that he was abducted by Chinese agents.
Correction: An earlier version of this story indicated Lisa Zhang was not a member of Falung Gong – she is. Li Xiaolong's name has been updated to reflect its preferred transliteration.