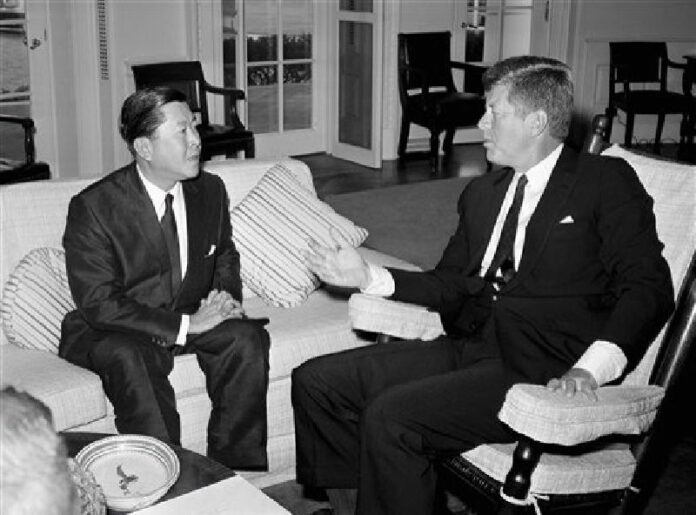 BANGKOK — Thanat Khoman, who as Thailand's foreign minister helped cement his country's close relations with the United States during the Vietnam War, has died at age 101, his family announced. His death was attributed to natural causes.
U.S. diplomats who dealt with Thanat described him admiringly as shrewd and above all, dedicated to seeking advantage for his country. Shifting international politics saw Thanat move from being an advocate of close links to Washington to a promoter of regional balance by establishing relations with China, which had been a Cold War bogeyman.
"He defended Thailand's interests with grit and grace," U.S. Ambassador to Thailand Glyn Davies said in a statement after Thanat's death Thursday.
Thanat is credited with being a major force behind the 1967 founding of the Association of Southeast Asian Nations, a regional grouping which this year is seeking to evolve into a full-fledged ASEAN Economic Community.
After working in the Foreign Ministry under three military dictatorships, Thanat entered politics, serving as leader of the Democrat Party, the country's oldest, in 1979-82 and as a deputy prime minister in 1980-82 before withdrawing from public life.
Thai Foreign Minister Don Pramudwinai described Thanat on Friday as "visionary and … very determined to protect the interests of our country."
Born on May 9, 1914, Thanat studied law at the University of Paris before joining the Thai Foreign Ministry in 1940 and serving in his country's embassy in Japan, which after occupying Thailand in World War II became its nominal ally. Returning to Thailand before the war ended, he joined the anti-Japanese underground.
He resumed his diplomatic career with a posting in Washington in 1946-47, returning there as ambassador in 1957-58. He was named foreign minister in 1959, a job he held until 1971, when he was dismissed in a move thought to be linked to his advocacy of rapprochement with China.
Thanat's name is most closely associated with the Rusk-Thanat Communique of 1962 ― issued with then-U.S. Secretary of State Dean Rusk ― which pledged that the United States would come to Thailand's aid in case it faced aggression. Communist advances in neighboring Laos were the impetus for the agreement, whose importance for both countries grew as communist forces stepped up pressure in South Vietnam as well.
The agreement drew Thailand closely into the American orbit, indirectly leading to massive amounts of development aid and the stationing of tens of thousands of U.S. military personnel at air bases around the country used for missions against Vietnam.
But when Thanat realized by the end of the 1960s that Washington was unlikely to stick it out in Vietnam, he began urging a realignment of Thailand's foreign relations to win China's favor. Diplomatic relations were established with China in 1975, after Thailand's military rulers had been ousted and U.S.-backed governments in neighboring Indochina were defeated by communist forces. By 1976, the U.S. military was gone.
"Thanat Khoman was a convinced nationalist and worked well with the United States, as long as he felt the relationship was mutually beneficial," veteran U.S. diplomat John Gunther Dean recalled in a 2000 oral history interview for the State Department. "As time went on, Thanat's close relationship with the United States became progressively more strained and he became vocally critical of the U.S. on many subjects."
"Thanat favored Asians working together in their own national interest and not relying on one single foreign power for leadership," said Dean, the U.S. envoy to Thailand in 1981-85.
Thanat, whose survivors include daughter-in-law Sirilaksana Khoman, a leading anti-corruption activist, is to be cremated after traditional Buddhist funeral rites.

Story: Grant Peck / Associated Press
To reach us about this article or another matter, please contact us by e-mail at: [email protected].