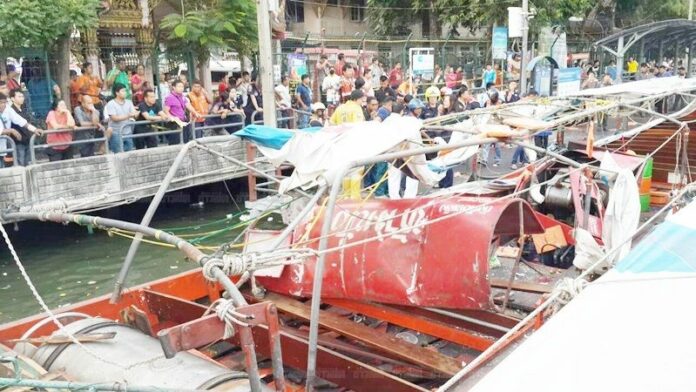 BANGKOK — At least 67 people were injured, two seriously, when a boat engine exploded on Khlong Saen Saep this morning.
The boat carrying around 80 passengers was approaching the dock at at Wat Thep Leela pier around 6:30am Saturday when the engine exploded, according to Chaowalit Methayaprapas, owner of Family Transport (Krob Krua Kon Song) company. The company operates the passenger boat service on Khlong Saen Saep in Bangkok.
A number of passengers fell into the water following the explosion. Police and rescue teams arrived at the scene to help them. Over 50 people injured from the blast were sent to hospitals.
Chawalit said the cause of the blast is still unclear. In order to protect against similar incidents in the future, his company's 25 boats, which run on diesel and LNG like the boat which exploded, were ordered to use only diesel for now.  
The company also operates a further 45 boats which run only on diesel.
According to Chawalit, his company turned to liquefied natural gas, the use of which was approved after consultation with energy experts including those from PTT PLC.
Pairat Boondam, manager of Family Transport, told Khaosod English this afternoon that his company started to use boats that used natural gas around 7 or 8 years ago. Pairat said that today was the first time there has been explosion involving their boats.
Pairat said he is presently at a hospital visiting injured passengers.
Family Transport owner Chawalit said his company will compensate all passengers who were injured in the accident.
Pol.Col. Sarayuth Junnawat told Khaosod English by phone this afternoon that 67 people were injured, two of them seriously.
Officers have now called off the search for those who fell into the water. Nobody was found, according to Pol.Col. Sarayuth Junnawat of Hua Mak Police Station.
Other boats in the canal are still running as usual, Sarayuth said.
Chayanit Itthipongmaetee can be reached at [email protected] and @chayaniti92.
Follow Khaosod English on Facebook and Twitter for news, politics and more from Thailand. To reach Khaosod English about this article or another matter, please contact us by e-mail at [email protected].