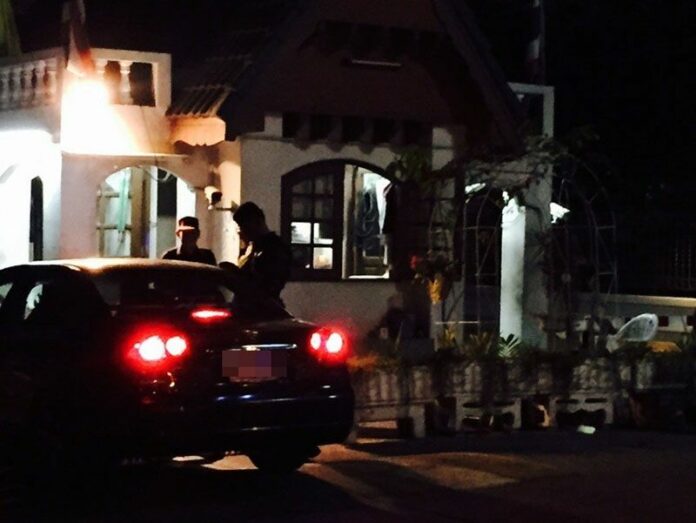 By Pravit Rojanaphruk
Senior Staff Writer
BANGKOK — More arbitrary detentions and "attitude adjustment" sessions are likely in the run-up to a vote on the junta-sponsored draft charter, critics warned Monday after two politicians were taken into custody by the junta.
"There's a tendency for more repression," said Sunai Phasuk, senior researcher on Thailand for Human Rights Watch. "[The junta's] primary concern is now the draft charter and the referendum. Not only is it their primary concern, but they are very sensitive about [criticism]."
One of the two still being held Monday was former Pheu Thai MP Worachai Hema, who was detained by soldiers Saturday two days after he called on junta leader Prayuth Chan-ocha to step down if voters reject the draft charter. He was taken from his Samut Prakan home after Gen. Prayuth announced he would take action against him Friday in his weekly televised address.
On Sunday night, a dozen soldiers in four vehicles arrived at the home of another Pheu Thai politico and former MP who had publicly stated concern about Worachai's welfare and the right to campaign against the draft charter before the referendum.
Wattana Muangsuk was not home at the time, so the soldiers erected a checkpoint in front of his housing development project in the capital's eastern district of Prawet.
Minutes before turning himself in to the junta Monday morning, Wattana posted from an undisclosed location to say he had to sleep elsewhere, adding that sending soldiers to take him from his home causes "damage to the country in the eyes of the international community."

A soldier waves from a military vehicle Sunday night near the home of former MP Wattana Muangsuk's home in Bangkok's Prawet district.

As of Monday at noon, both men were still being held incommunicado. Prayuth told reporters Monday morning he would not tolerate unfound criticism and insisted the junta's "attitude adjustment" program is sticking to the law.
"A clear message is being sent [to dissenters] that [the draft charter] is their priority, and they will not tolerate [criticism]," rights activist Sunai said.
Sunai said the time has come when international bodies such as the United Nations and countries with leverage speak out and turn up the volume on calls for the junta to honor its pledge to restore democracy.
Sunai said there's not much organizations such as Human Rights Watch and others can do, as the junta has turned a deaf ear to them.
"They should be explicit in pointing out that the junta continues to harass and prosecute dissenters using authoritarian means, and they must be held accountable for what they have pledged," he said. "The true color of the junta is not committed to democratic transition but prolonging military rule."
The draft charter, the second constitution to be proposed by a committee of drafters appointed by the junta, is expected to go before voters by August. The military government said its adoption is essential to its most recent timetable to returning the country to civilian rule.
Critics of the charter say it is anti-democratic and deepens the military's hold on power.
Thai Lawyers for Human Rights Yaowalak Anuphan said the National Council for Peace and Order, as the junta is called, doesn't care about the noise made by local rights groups. "It will take international organizations and blocs of nations such as the European Union, as well as the United States, to make them listen."
Yaowalak's colleague Anond Nampa said clear messages are being sent by junta leaders that a more severe crackdown is imminent, and he is curious to see if the conditions of detention will be made more severe and whether a minimum length of detention will be established, such as three days. In many cases, high-profile critics have been held for only a day or some hours.
Redshirt leader Weng Tojirakarn, also a former Pheu Thai MP, is upset his colleagues continue being taken into secret detention, expressing such with a hyperbolic historical reference.
"When [Nazis] took the Jewish people away, at least we knew they were being held at Auschwitz," he said, saying that the families of Worachai and Wattana do not know where they are being held.
Weng said the Pheu Thai Party is trying to stay calm and not react but warned that Redshirts have limits to their patience.
"If they keep throwing gasoline on fire, and people can't stand it any longer and rise up, who's gonna handle it?" he said.